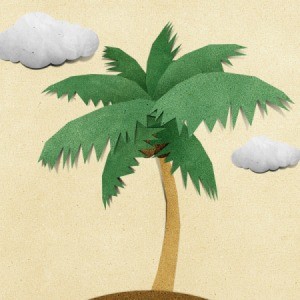 We are planning a beach party and want to make some palm trees to put out side by the beach area. Does anyone have a simple idea to make these trees?
Thank you for all your help!
ANGELA from INDIANA
Answers
By (Guest Post)
June 22, 2006
0

found this helpful
I would also like to know. We have a pond with a very large sandy beach area. I saw on the Martha Stewart show how to make a temporary tiki bar but they didn't do any palm trees. Would love to know how too. Peg from Ohio

June 22, 2006
0

found this helpful
Heres an idea from my child hood. They might not look exactly like palms but they will be fun!
Take newspaper and lay it out you are planning on rolling it on an angle so paint the parts that would be at ttop and some on the inside green. ( you can try painting afterwards but it will be very hard. I suggest making one plain first to get to know our design.) Then roll on aa diagonal. once rolled tape the outside edge down. Then from the top of your roll, cut downwards in thick strips. ( the wider the better for the palm look.) once you have them cut, grab in the center of the tops shreds and pull up.
The paper inside shoud twist and pull out some. The top will look like a plant and the bottom a trunk. Then you could paint the bottom brown and Voila! you have a palm.
The were called Flibbers when I was a kid and were great fun to make. Kinda hard for kids to do on thier own though since you need some really good scissors to do this.
Heres a link to the PBS. Sprout directions to this. they call it a growing tree.
www.sproutletsgrow.com/.../sprout_craft_worksheet_122.pdf

June 22, 2006
0

found this helpful
We have made large palm trees for Luau parties.
1. Find a large cardboard roll (like wrapping paper roll only larger). Ask a carpet store for their old rolls, or a print shop that uses large rolls of paper. If the rolls are already brown leave them, if not, cover with brown craft paper or paper grocery bags.
2. Buy some jute or twine and tape it to one end, wrap it around the roll, tape at the other end. This adds texture to the cardboard roll.
3. Find an old umbrella or buy a cheap one at the dollar store. (If you are lucky enough to find a green one then just open it up and stick it in the top of the roll.) If not, remove the fabric from the umbrella.
4. Buy large pieces of green poster board. Cut into palm tree shapes. Attach to umbrella arms.
5. Stick the umbrella into the top of the roll.
Voila! Palm tree.
If you need it to be free standing, stick it in a bucket with some gravel, or something similar.

June 22, 2006
0

found this helpful
Thank you ladies !!!! This helps me a lot. I just hope they hold up at on our sandy beach. I also would like to know about the " tiki bar", that sounds fun !!! Let me know what you find out about that. Thank you again....
Angela
By Shakespeare (Guest Post)
June 23, 2006
0

found this helpful
Use coffee cans. Stack them on top of each other and cover with brown paper. for the top leaves, cut out of green paper and tape to the middle of the top can. Make your tree high enough so no one can see the tape or glue a fruit over the tape.
By bob. (Guest Post)
February 24, 2008
0

found this helpful
It was pretty helpful, but it will take much longer than I thought.
By lifewithmadman (Guest Post)
June 7, 2008
0

found this helpful
You need to add pictures so I can understand more clearly.
By Kristen (Guest Post)
August 6, 2008
0

found this helpful
Suggestion: for the base of the palm tree use brown lunch bags cut the bottom off of them and slide them down the cardboard pole and scrunch them together, takes about 25 to cover a 8ft pole. Looks realistic and I recommend it!
Answer

this Question

Does anyone have any ideas on how to make palm tree leaves? Fabric is too limp and cardboard is a bit too stiff.
Answers

June 30, 2013
0

found this helpful
What about felt and using starch to make it just a bit stiffer?

July 1, 2013
0

found this helpful
Thanks for your thought. A friend suggested I use fabric (green shower curtain) and florist tape under the fabric to stiffen the under side.
I thought about using fabric and applying pipe cleaner to the under side of the fabric.

susan
Silver Feedback Medal for All Time! 472 Feedbacks
July 8, 2013
0

found this helpful
Is this just for a temporary decoration? If so, I'd make them from newspaper. Use a couple sheets for the leaves and roll some for the veins in the leaves for support (glue on), then spray paint them dark green.

May 8, 2017
0

found this helpful
Use green plastic tarp. That's what I cut up to make leaves.
Answer

this Question