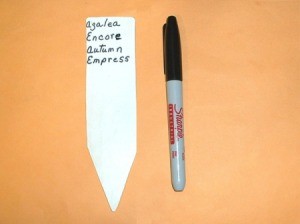 This entry is sort of a repeat of an earlier post, but with more information.
I didn't realize how easy it was to root grape cuttings. When I found out, I started rooting them like crazy. I had five different varieties. I carefully labeled the cuttings from each, making labels from mini blinds and using a fine point 'permanent' Sharpie pen.
Within a year's time, the labels had become a bit brittle. That wasn't a real problem. To my dismay, the elements had obliterated the 'permanent' ink. There was nothing I could do but group the plants all together and re label them 'Seedless Grape - Unknown Variety'. That hurt.
Again, I say "If you want a marker that will last 30-40 years, make it out of vinyl siding scraps. If the siding will last that long on a home, it will last that long in the garden.
Now for the matter of a more permanent ink. There is a Sharpie pen with ink that will outlast the regular 'permanent' ink many times over. I would have been using it all along, but couldn't find it any longer.
I have found that Lowe's carries this pen, 3 for $3.00. It's called Sharpie Industrial Super Permanent Ink. I have labels several years old written with this pen and the ink is as bold as ever.
Someone knows someone who has a piece or two of scrap vinyl lying around. If not, Lowe's sometimes will sell one sheet of basic white vinyl siding. If that would be more than you'd ever need, you can always place an ad in Free Cycle for scraps.
There you have it. No excuse not to have nice plant markers that will last for many years without any maintenance on your part.
Oh, for cutting the vinyl you'll need scissors or shears heavier than those tiny foldable things you carry around in your purse for on the run mending. Someone knows some handsome, muscular jock who has, and is handy with, a pair of tin snips. So, ask around.
Say what? You are that handsome, muscular jock and you're a gardener, too? And you will cut the labels for that sweet, elderly widow lady down the street? How nice. You will do her parsnips and petunias proud.
As I always say "Among gardeners are some of the nicest people in the world"!