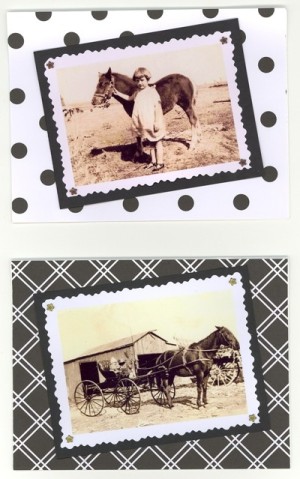 I'm not a scrapbook person, but some of my friends who are encouraged me to try to make these note cards. I used old vintage photos of family members to make them special. I scanned the photos and had copies made.
Here are brief instructions on the particulars:
Use white card stock, 8-1/2 x 11 inches. Cut in half to make the card. Fold each one in half.
I bought a pad of paper with different black and white designs at the scrapbook store to use as background. Cut each piece to 5-1/2 x 4-1/4 inches and use double-stick tape to tape it to the top of the note card.
I trimmed around my photos with craft scissors, glued the photo to a black piece of paper just a little bigger than the photo, and inserted special brads shaped like stars that I bought at the scrapbook store in each corner. Tape this to the card.
And you are done! You can buy 4-3/8 x 5-3/4 inch invitation envelopes at the store that will fit these notes perfectly.
I'm giving these as gifts to family members this Christmas. I'm sure they will love them!

By Holly from Golden, CO
Read More Comments
This is an inexpensive gift idea. I found a vintage photograph of a great-great-great aunt of my husband's riding a bull. It was too fabulous to do nothing with so I scanned it, made prints (about 18 cents each), and glued the photo to the front of blank note cards....
Read More...