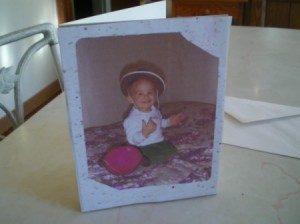 To make a special card for my son's 40th birthday, I scoured over my precious photo albums. I scanned a particularly cute photo on my printer and printed it out. You could use the original photo if you want to give it to them instead.
I cut a rectangular shaped, stronger stock of paper, folded it, and glued the family photo onto the front of the card. Use rubber cement and it won't soak through any paper and is totally removable. I wrote my own special message to him inside the card. He and his fiancee were thrilled to see it!
I decided to pull out other family members in photos and scanned and shared their photos with them as well. They were so thrilled for the new old photos of themselves, and so was I!
Our older photos are historic treasures and memories of your family. Share them!