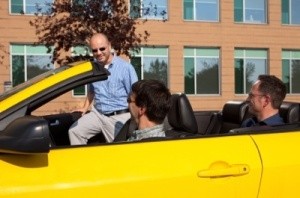 If you're not ready to give up on some extras, but their costs are tough to justify, think about splitting the costs in half. How? Long, long ago the idea of a commune invited sharing - sharing of the products and sharing of their cost. Could you and your neighbor form a mini-commune? Consider what can be shared and what costs could be split.
The Logistics
The logistics of the communal plan involves proximity and organization. A neighbor is an ideal communal member, though family members and coworkers could work as well. The plan is to split the costs on products and services that can easily be shared between two households. Agreement is key. You can't share with a family who isn't organized and doesn't stick to the plan; it could be a prescription for disaster and ill will between the families. Instead, agree to give it a trial run to see if it works. If either party has just one doubt after the trial, then agree to pull the plug on the project. Think of it as an experiment in saving not a guarantee.
Shared Reading
It's not difficult to share reading materials with others. Magazine subscriptions are expensive, and newspaper rates lead us to question the value. However, if you could get each at half the price, wouldn't you grab the savings? Magazines can easily be shared with someone you don't see on a daily basis. Consider sharing magazine subscriptions with family members, coworkers, or friends. If there are two subscriptions that you have in common, each person should only renew one.
Then, switch the magazines after you've read them. If there is only one publication that you wish to share, simply have one person renew it and have the second person donate half of the funds. This method not only allows sharing but it encourages timely reading when you know someone is awaiting the magazine.
Newspaper sharing is a great idea, but it requires daily contact with your sharing partner. This rules out coworkers and distant family and friends. Neighbors share newspapers best. Agree who will be the early riser; this is where the paper will be delivered and whose name will be on the bill. There is no need to include a "visit" with the second delivery, though this might be a welcome share for elderly neighbors who can check in on one another. Agree that the morning reader will reroll the paper when finished and drop it on the next doorstep by noon.
Share the Ride
Carpooling is not a new idea, but consider all aspects of it. In populated neighborhoods, you might find that three or four children share a common after school activity. Are the parents sharing the burden of taxiing the children back and forth? What about the rainy morning drop off at school? Are several cars leaving the block or one loaded van? Share the driving equally, or if one parent is out of the loop because of work or infant children, allow that parent to contribute a few dollars worth of gas money on a regular basis. Everyone will appreciate the help.
Share the Fun
What other subscriptions can be shared between neighbors or friends? Consider monthly Netflix subscriptions. If you trust your sharing partner to care for the videos, consider splitting the cost of the subscription. You both could order up the same movies and pass them back and forth before returning them, or you could take turns ordering the movies.
The two movies at a time plan would work quite well, and splitting the cost would be cheaper than two smaller plans. The program also offers instant video streaming. One family could have a movie this week while the other could stream video.
Read More

Comments