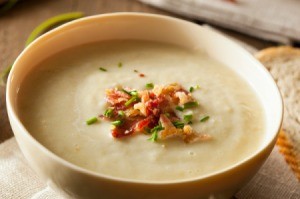 I'm looking for a recipe for potato soup that uses milk (not half-n-half, etc.), and does not have any meat in it.

Thanks!
Maryeileen from Brooklyn, OH

Answers
By Dede (Guest Post)
December 7, 2005
0

found this helpful
Best Answer
I have always used milk, not 1/2&1/2. I boil potatoes, carrots, celery, onions. When finished, drain most of the water off, then put a stick or so of oleo/butter in with a little milk, then I add Velveeta cheese. Let it all melt on low heat, so nothing scorches. Stir often. You can omit the cheese or whatever you don't like of the above, except the tators. It really is tasty.

December 7, 2005
0

found this helpful
Best Answer
Good, simple potato soup.
Dice 5 or 6 large potatoes and 3 large onions. Cook in just enough water to cover until tender. Add a quart of whole milk or 1 pint of 1/2 & 1/2 and 2 tablespoons of butter (optional). Heat until hot but not boiling.
By Claudia- MD (Guest Post)
December 8, 2005
0

found this helpful
Best Answer
Here's what my mom does: Peel, cut up potatoes, onion and celery. Put all these vegetables in a pot and cover with water. Add salt, pepper and a little butter. Cook until veg is tender. Put milk in a jar, add cornstarch and shake until smooth.
Add this to the veg/water mixture. Cook until the soup thickens. Great cold weather meal. (Sorry I don't have the amounts. When I do it, I just use my judgment and it comes out fine.

December 8, 2005
0

found this helpful
Best Answer
To make potato soup with milk, you peel 8 large potatoes and cut into quarters. Peel and dice 2 large onions. Put potatoes and onions in a large kettle and cover with enough water to cover the potatoes. Add salt and pepper to taste and boil until potatoes are done. DO NOT DRAIN. Add one stick of butter to your water and 3 cups of milk with a potato masher. Mush the potatoes but leave some lumps. Thicken with a mixture of corn starch and milk.
By bill (Guest Post)
December 7, 2005
0

found this helpful
1/2 stick butter, 1 sm. onion diced, 2 med. carrots diced, 2 tbs all purpose flour, 8 medium russet potatoes peeled & cubed, 4 cups milk, whole, reduced fat 2% or 1%, 2 chicken bouillon cubes disolved in 1/2 cup hot milk, 1 cup half & half, 1 tsp salt,1/4 tsp pepper, . in a 4 qt saucepan melt butter, saute carrots & onion, whisk in flour and cook for 1 min.,Add potatoes, milk, and disolved bouillon.
Cook over medium heat for 15 minutes until potatoes are soft and some are mushy. Add the half & half, salt and pepper. Grated cheddar and or crumbled bacon bits for garnish.

December 8, 2005
0

found this helpful
Here are three of my recipes that I enjoy.
Sandee B
OUTBACK STEAKHOUSE POTATO SOUP
5 lg potatoes
1-12 oz can evaporated milk
1 lb Velveeta Cheese, cubed
salt to taste
pepper to taste
garlic to taste
garnish
sour cream
bacon bits
shredded cheese
green onion tops
Wash, peel, cut potatoes in small pieces. In medium size pot, barely cover with water, boil until cooked but still firm. Add milk & cheese. Cook on low stirring constantly until cheese melts. Do not boil. Ladle into serving bowls, add toppings of sour cream, bacon bits, shredded cheese, and green onion tops. Global Friendship Kitchen 12/30/04
(CREAMY IRISH) POTATO SOUP
Serves 5
2 tbs butter
4 green onions, sliced
1 stalk celery, sliced
1-14 oz can chicken broth
1/8 tsp ground black pepper
3 med potatoes, peeled, sliced ¼" thick (about 1 lb)
1½ c milk
Heat butter in saucepan. Add onions & celery, cook until tender. Add broth, pepper & potatoes. Heat to boil. Cover, cook over low heat 15 minutes or until potatoes are tender. Place half broth mixture & half milk in, blend until smooth. Repeat with remaining broth mixture & remaining milk. Return to saucepan. Heat through.
Serve with spinach salad with honey mustard vinaigrette & Pepperidge Farm(R) Hot & Crusty Rolls. For dessert serve fresh fruit salad. Campbells Kitchen
BAKED POTATO SOUP
4-5 baking potatoes
2 c water
1 qt milk
½ c celery
¼ c butter
½ c sour cream
1/3 c bacon, cooked , crumbled
1/3 c green onion, chopped
2 c sharp cheddar cheese, shredded
1 tbs fresh parsley or dill, chopped
salt & pepper to taste
Bake potatoes for about 1 hour at 350F.
Heat water, add chopped celery to water, simmer until celery is tender. When potatoes are fully cooked, slice down center, scoop out pulp of each potato, add to celery & water. Add milk, butter, sour cream, bacon, green onions, 1 cup of cheddar cheese, parsley or dill, salt & pepper. Allow mixture to simmer over low-medium heat until thickens. Serve hot with cheddar cheese sprinkled on top. You may also add chives (from top of green onions), bacon pieces & sour cream.
When I made this recipe last time, I chopped up potato peels & added to soup. skins added flavor & texture, you may want to try this. I also understand that most of vitamins & minerals are in skin of potato. ArcaMax

December 12, 2005
0

found this helpful
This is our favorite recipe. It comes from an Amish Cookbook. Karen
Wisconsin Potato Cheese Soup
2 tbsp. butter or margarine
1/3 cup celery, chopped
1/3 cup onion, chopped
4 cup potatoes, diced and peeled
3 cups chicken broth
2 cups milk
1/4 tsp. pepper
1 1/2 tsp. salt
dash paprika
2 cups cheddar cheese, shredded
fresh parsley, chopped (I don't add this)
In a large saucepan, melt butter over medium high heat. Saute clery and onion until tender. Add potaotes and broth. Cover and simmer until potatoes are tender, about 12 minutes. In batches, puree potato mixture in a blender or food processor. Return to saucepan. Stir in milk and seasonings. Add the cheese and heat only until melted. Garnish with parsley and cheese. Yield 8 servings.

Maryeileen
Bronze Request Medal for All Time! 59 Requests
December 12, 2005
0

found this helpful
My request should state that the recipe should not have any meat, OR meat flavoring. I am a vegetarian. Thanks!
December 13, 2005
0

found this helpful
This is my potato soup
5 potatoes
1 onion
2 stalks celery
1/2 stick butter
salt pepper to your liking.
Make a thickener with flour, just as you would make a gravy. I use milk to make my thickener.
Answer

this Question