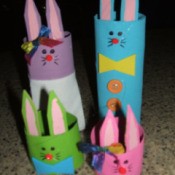 These whimsical bunnies are inexpensive and fun to create. Add your own bows, buttons, or other embellishments to make each one unique.
Approximate Time: About 1 hour
Supplies:
2 toilet tissue cardboard tubes
1 cardboard paper towel tube
4 mini pom poms
black permanent marker
various colors of craft foam pieces or felt
hot glue gun and glue sticks
scissors
ribbon and fabric scraps
4 different colors of acrylic paint
light pink acrylic paint
paint brush
2 small buttons
Instructions:
Cut the other two cardboard tubes as follows to create 3 bunny bodies and 8 bunny ears.

Toilet tissue tube:

cut two 1.5 inch bodies
cut two 1/2 inch ears

Paper towel tube:

cut a 4.5 inch piece for the dad's body and cut six 1/2" ears

Paint each tube, inside and out, and a set of matching ears to go with each body.
Use scissors to trim tops of ears to make them pointy.

Run a line of hot glue inside the ear and press it (circle of cardboard) closed to flatten it. Hot glue the ears to the top inside of the cardboard tube body.
Use pink paint to paint a line on each ear.

Glue on mini pom-pom noses and cut bows from felt and attach. For girls, attach bows up by the ears and for boys at the bottom front of the body.
Use a Sharpie to add eyes and whiskers.
If you like, cut a simple apron from white felt for the mom. Cut out a small carrot from orange and green felt and glue to the apron. Glue apron in place. Glue 2 buttons to the front of the dad.
By Rachel's Mom from Wilkesboro, NC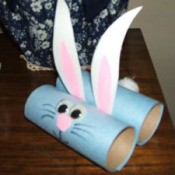 Kids will love seeing these adorable bunnies adorn your holiday table.
Approximate Time: 20 minutes
Supplies:
2 cardboard tissue rolls or 1 paper towel roll
1 sheet of colored paper
craft paint or makers
2 wiggly eyes
pom pom or cotton ball
scissors
hot glue gun and glue sticks or craft glue
Instructions:
Roll equal lengths of colored paper around two cardboard tubes and glue ends.
Glue the tubes together as shown in photo.
Cut out two matching ears, color the inside of ears pink and glue between tubes.
Decorate bunny's face with markers or paint.
Glue on wiggly eyes and pom pom or cotton ball tail.
By Mom of 1 from Wilkesboro, NC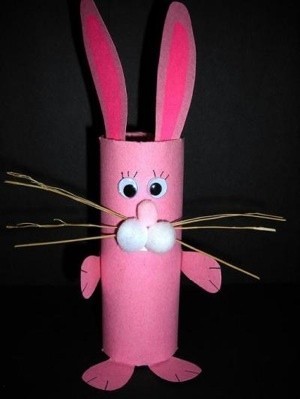 This is a cute, very inexpensive craft for kids of all ages.
Approximate Time 30 - 45 minutes
Supplies:
bath tissue tube
pink and white construction paper
scissors
cellophane tape
markers
wiggle eyes (optional)
broom straw, string or yarn
glue
three white pom poms or cotton balls
small pink pom pom or small piece of pink tissue paper
Instructions:
1. Cover a bath tissue tube with pink construction paper. Use marker to draw eyes at one end, or glue on wiggle eyes, if you have them.
2. Draw, color, and cut rabbit ears from pink construction paper. Tape these to the inside of the tube above the eyes.
3. Draw and cut four paw shapes, with attached legs, from pink paper. Glue one pair of paws to the sides of the tube. Tape the legs of the second pair to the inside of the bottom of the tube. Bend the paws at the bottom of the tube to the outside so the rabbit will stand.
4. Cut three strands of straw from a broom or whisk broom for whiskers. Glue the centers of the whiskers to the tube below the eyes. String or yarn may also be used for whiskers.
5. Cut two small rectangular shaped teeth from white paper. Glue these just below the whiskers.
6. Glue two white pom poms or small balls of cotton over the whiskers at the top of the teeth. Glue the remaining white pom pom to the back of the tube for the tail.
7. Glue the small pink pom pom over the white ones on the face for a nose. You can also use a small piece of pink crumpled tissue for the nose.
By Marie from West Dundee, IL
Editor's Note: This could be adapted into a dog or cat using different ears and facial features.