(A blue ribbon contest winner - at a PA Dutch fair, no less!)
Ingredients
1 unbaked pie shell
1/4 tsp. baking soda
1 1/3 cups boiling water
1 1/2 cups (16 oz. can) Hershey's syrup
1 tsp. vanilla
1 1/3 cups unsifted all-purpose flour
1/2 cup sugar
1/4 tsp. baking soda
1/4 tsp. salt
1/3 cup butter
Cinnamon
Directions
Dissolve 1/4 teaspoon baking soda in boiling water; stir in chocolate syrup and vanilla. Set aside. Combine flour, sugar, 1/4 teaspoon baking soda and salt. Cut in butter with pastry blender to form coarse crumbs.
Set aside 1 cup each of chocolate mixture and crumbs. Gently combine remaining chocolate and crumbs, stirring just until crumbs are moistened (mixture will be lumpy). Pour reserved cup of chocolate mixture into pastry shell.
Pour chocolate-crumb mixture evenly over liquid in shell. Top with remaining 1 cup crumbs. Sprinkle with cinnamon. Bake at 375 degrees F for 60 minutes or until set. Cool completely.
By Renee from Slatedale, PA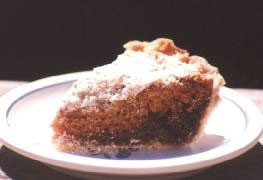 Shoo Fly Pie is a favorite dessert in the Amish community, and there are many different variations. Some are more like coffee cake than a pie. The name comes from the days when pies were cooled on the windowsill, and the sweet filling would attract pesky flies, which the cook "shooed" away.
Here's a simple and no-fail version that can be created with staples from the pantry.
Ingredients
Crumbs:
(Reserve 1/2 cup for topping):
2/3 cup brown sugar
1 Tbsp. Crisco or other solid shortening
1 cup flour
Filling:
1 cup molasses
3/4 cup boiling water
1 egg beaten
1 tsp baking soda
Preheat oven to 375 degrees F. Prick sides and bottom of pie shell with fork (this keeps shell from bubbling). Combine soda with boiling water, then add egg and syrup.
Add crumb mixture; dont worry about lumps. Pour into unbaked pie crust and cover with reserved crumbs.
Bake at 375 degrees F for 10 minutes, then reduce heat to 350 degrees F and bake for an additional 35-45 minutes or until firm. Let cool before slicing.
By Claire
Ingredients
1 cup flour
3/4 cup dark brown sugar
1 tbsp. shortening
1 cup dark table syrup
1 egg
1 cup coconut
1 tsp. baking soda
1 cup hot water
Directions
Mix first three ingredients together to form crumbs, reserve 1/2 cup for topping. Mix egg, syrup and 3/4 cup hot water, add to dry mixture. Dissolve soda in remaining 1/4 cup of hot water and add to above mixture. Pour into unbaked pie shell, sprinkle with remaining crumbs. Bake at 375 degrees F for 35 minutes.
By Renee from Slatedale, PA