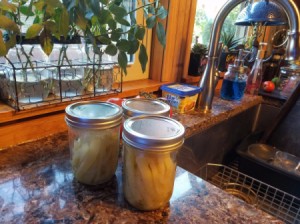 I was making stickles (pickles). After I'd followed the recipe to the 3rd day, I boiled the stickles for 30 minutes. It said to pack them in hot jars, seal, and put in a boiling water bath for 10 minutes. It did not say to put any liquid over the stickles. Now I'm second guessing what "packing" means. I imagine they are sealed now, without liquid. What do I do?


August 1, 2017
1

found this helpful
Best Answer
I have reread a couple of answers and I'm not sure if everyone has canned pickles or vegetables before. Has anyone ever seen a container of pickles that were not in liquid? I do not make stickles but my daughter does and she adds the sweet liquid and they are very good but I cannot imagine them without the liquid..
Stickles are just pickles with added sweetener, so why would they not have liquid? This recipe just does not spell it out - probably because the writer expected people doing this to know why the liquid was made in the first place. It is probably not a good recipe for first time cooks to use (no insult intended).
I love pickles and since I grow them I can pickles quite frequently and as I said before - stickles are just sweet pickles but a very good way to use "fat" cucumbers.
Many of my acquaintances would really be disappointed if they did not get their annual gift of "pickles" and often call to see when the gift will arrive.
Here is a site that I use and it has very clear instructions although it does not have a recipe for stickles. Second link is a clearer recipe for stickles.
extension.psu.edu/.../quick-process-pickles#section-30
www.cooks.com/.../velma-buckinghams-sweet-stickles...