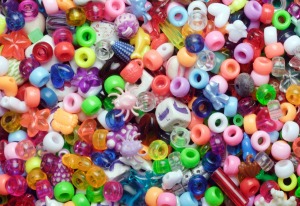 I use to make really cute tri-bead people key chains about 40 years ago and I forgot exactly how. Does anyone know how or have the pattern? I would love to teach my grandchildren so they can make Christmas gifts this year. Thank you so much.
By PamalaK from Nashville, TN
Answers

June 19, 2012
1

found this helpful
Hello, I am a little confused, are you asking for the patterns for these Tri-bead key chains for as I look back into this post, April 14, 2011, I had posted that I have these patterns and you were a person that asked for them at that time! Please let me know if you still need them.
Thank you
October 30, 2015
1

found this helpful
I have been searching all over for these patterns as well. I used to have a keychain made out of tri beads back in the 70's, but don't know what happened to it. If you still have patterns for tri beads would you be able to email them to me or make copy and mail it to me?

December 19, 2018
0

found this helpful
I need a pattern for the tri bead people. I was given a Keychain at church when I was a child and I really liked it, but I lost it. Now I would love to see how it was made. Thanks. Eileen

January 20, 2019
0

found this helpful
Eileen / I am also looking for that pattern- were you able to find it?
Thanks Cynde

February 25, 2020
0

found this helpful
I would love to have some patterns for bead crafts, if you still have them

November 14, 2020
0

found this helpful
I would love to get this pattern to make with my granddaughter. Thank you for sending them if you can.
Answer

this Question

Does anyone have a pattern for the little people keychains that are made with tri beads. My great grandmother used to make them and give them to us as kids and I would love to pass them on to my grandkids.
By BushaOf5 from Erie, PA
Answers

April 14, 2011
0

found this helpful
Hi Myantoo, I remember those key chains also. I would love the patterns also if you would not mind sending them to me also. I would appreciate it so very much.
My email is
cassie_brewer2002@yahoo.com.
Thank you for your time and kindness. Take care God bless you and your loved ones. Cassie
Answer

this Question