I wanted to post a few examples of five pointed, crochet stars. Thus far I have reworked one posted some time ago by one of our members and one taken from the Wool and Hook website. Today I am sharing an nifty star pattern designed by Melissa Masterton. Melissa has a lovely blog site where you can find many patterns and crochet items: Ruby and Custard. She graciously allowed us to post her pattern to share with our members.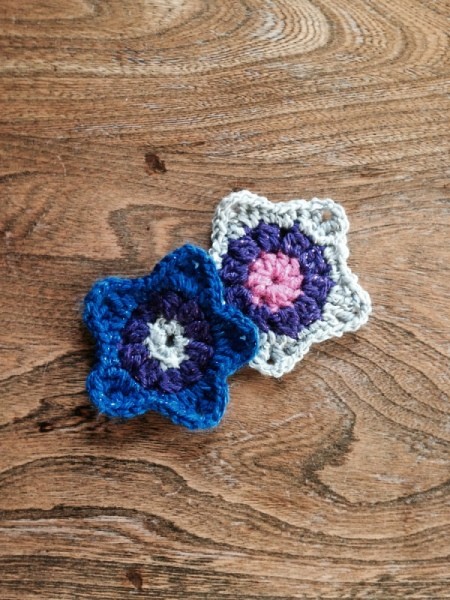 I have only been able to make a few stars. I am hoping in the coming months to use them to craft a project for my home. I am toying with a few ideas and hopefully will be able to share the project here when it is completed. But first the stars, perhaps you will be inspired.
Supplies:
DK yarn in your choice of color, I also played with the pattern using cotton yarn and a larger hook.
4 mm crochet hook
Steps:
I followed Melissa's lead and made my ring using "the magic ring" technique.
Make your ring using the magic ring technique, or if you don't mind the small hole in the center you can use the more traditional method used when making a pattern such as a granny square. Chain 2, make 9hdc in the ring. Pull the ring closed and slip stitch into the top of the second chain to complete the circle. You will have 10 stitches.
Round 2: Join a new color, if desired, chain 2, hdd into the first stitch. Chain 1, work a bobble stitch, and continue working a chain 1, bobble stitch around the circle. Slip stitch into the top of the first stitch to join the circle. You now have 20 stitches.
Round 3: This round consists of 5 sets of stitch groups, each one is worked across 4 stitches. Again join a new color, if desired. (Sc, hdc) in first stitch, (dc, trb, chain 2) in second stitch, (trb, dc) in third stitch, (hdc, sc) in fourth stitch. You have just completed the first point on your star. Continue these steps across each set of 4 stitches to make the five points on your star.
Stitches used in this project:
single crochet (sc) - insert hook in stitch or space indicated, yarn over (YO) and pull up a loop (2 loops on hook). YO and draw through both loops on hook.
half double crochet (hdd) - YO, insert hook in stitch or space indicated, YO and pull up a loop, YO and draw through all 3 loops on hook
double crochet (dc) - YO, insert hook in stitch or space indicated, YO and pull up a loop (3 loops on hook), YO and draw through 2 loops on hook, YO and draw through remaining 2 loops on hook
bobble stitch - this is the same as a hdc2tog, only worked in the same st, instead of being worked over 2 sts - yo, insert hook through next stitch, yo, pull back through stitch (3 loops on hook), yo and pull through 2 loops (2 loops on hook), yo and insert hook through same stitch yo, hook back through stitch (4 loops on hook), yo and pull through 2 loops (3 loops on hook), yo and pull through all 3 loops
treble crochet (tr) - YO twice, insert hook in stitch or space indicated, YO and pull up a loop (4 loops on hook), YO and draw through 2 loops on hook (3 loops on hook), YO and pull through two loops, (2 loops on hook), YO and pull through two remaining hooks