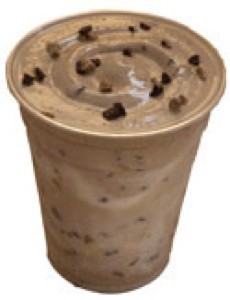 How Do you make a Wendy's Coffee Toffee Twisted Frosty?
By Brittani from Deltona, FL

Answers

August 6, 2009
1

found this helpful
Best Answer
I don't think the OP wanted to know how Wendy's does it. I searched and found this, so maybe you can add some cold coffee or even instant coffee to it to get the coffee flavor.And top off with bits of toffee candy or whirl them I guess :) I copied this from grouprecipes.com Hope it helps~
* 1 C. milk
* 1/2 C. Nestle's Quik
* 4 C. vanilla ice cream, softened
Directions
1. Blend milk and Quik for 10 seconds on high speed of blender.
2. Pulse in the ice cream until barely mixed. Mixture should be very
3. thick. Freeze for at least an hour before serving.

August 6, 2009
1

found this helpful
Best Answer
One word...okay three: Ben and Jerry's.
Ben and Jerry's Coffee Heath® Bar Crunch. Dump some in a blender, add milk to your desired consistency, enjoy.
Ounce per ounce B & J's isn't cheap but then you aren't saddled with ingredients like a coffee syrup (you can find in many grocery stores) you will only use a few times. It serves double duty - as is or as a shake.
If that's not an option, vanilla ice cream, coffee syrup (or very chilled espresso), milk and chopped up Heath or Skor toffee bars...in a blender.
I love this stuff. As pictured - I had it on my patio for breakfast last summer. Dang, I would love some right now.
Answer

this Question