With left-over papers, flower, and ribbon you can create a pretty purse card. It makes perfect gift for birthdays.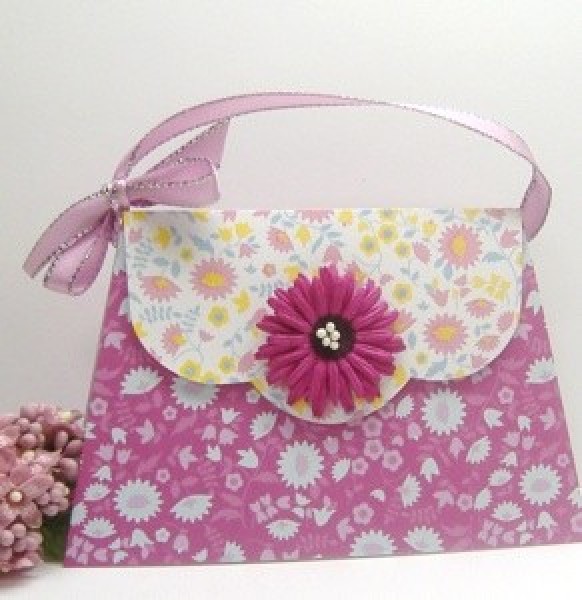 Materials:
floral patterned papers
daisy flower
purple with silver edges ribbon
foam adhesive
scissors
pencil
Approx. Time to complete: Less than 15 minutes.
Instructions:
Fold floral pink patterned paper.
Place the purse template to the center of the folded card. Use the pencil to draw around the shape. Cut out.
Trace the flap into light floral patterned paper. Cut it out.
Then cover the card using foam adhesive for dimensional effect.
Adorn with daisy flower.
Tie a bow using purple ribbon around the folded card.
Note: The patterned papers used are thick enough to stand up.
Click Here for the Purse Card Template.
By Maricel from Fairfax, VA
Comments
October 6, 2009
0

found this helpful
Very cute Maricel, and I also wanted to mention that I like the 15 minutes to make a very special card, it's very low cost, and buying cards are very stressing to me, it takes a lot time looking through so many of them, to find the ones that says what I want them to say, and then when I finally find one, it costs a lot of money, for just printed folded paper and the matching envelope. Sure, card writing people and the printers, and stores etc. do want to have a living, but, I prefer less stress. :)
October 6, 2009
0

found this helpful
I guess I'm better at giving instructions instead of reading them LOL!! Thanks for all your information! It is an adorable idea?
October 7, 2009
0

found this helpful
Hi Little Suzy! This is a folded card. Patterned paper used is DCWV Sweet Stack
It is thick and so I didn't use a cardstock. The opening is on the purse, not on the flap. To make the flap, trace the template onto the patterned paper, cut it out. Adhere on top of card using foam adhesive for dimensional effect. Wrap around purple ribbon on the folded card to make a handle. Finish it off with daisy flower. Thank you.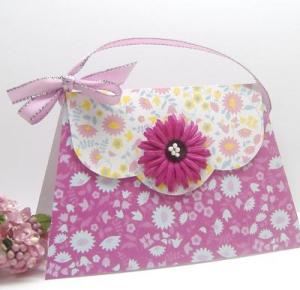 October 8, 2009
0

found this helpful
What a cute idea! So simple and fast. Thanks