Making Watercolor Cards
Solutions
Share on ThriftyFunThis guide contains the following solutions. Have something to add? Please share your solution!
July 9, 2008
1

found this helpful
I create hand-cut and assembled watercolor notecards with matching envelopes. Each design is one of a kind and can be adapted to any color scheme or theme.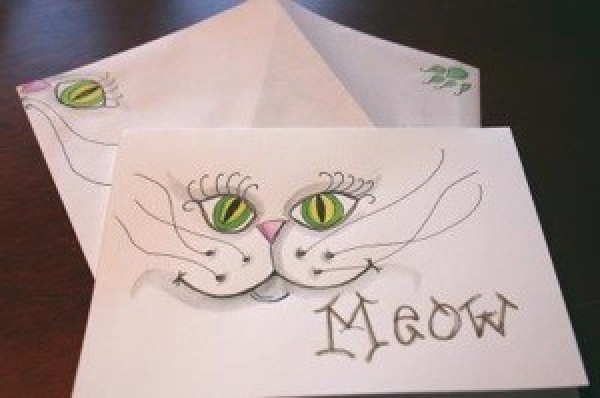 I use LuminArte Shimmers watercolor pots, a water pen, and fine point artist pens to create these cards. The best part is once the card has been sent, the recipient can frame the front of the card and have a personalized piece of artwork!
Approximate Time: 30min.
Supplies:
heavy cardstock
envelope template
envelope glue
LuminaArte Shimmers watercolor
water pen
Prisma Point pens
opaque watercolors
Instructions:
Determine how large of a card and envelope you wish to create. Utilize the many available online templates or templates available at local craft stores to make the cards and envelopes

Sketch out and paint the design on the front of the card, the lower left hand corner of the envelope, and on the flap side of the envelope.

Gift or send these special cards to a friend or loved one!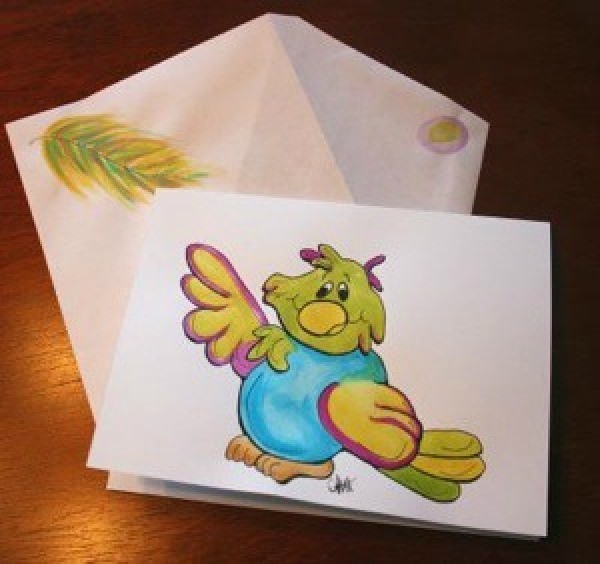 By Samantha from Atlanta, GA
Make a card using the naive art style. Use watercolor paint as the medium of choice and draw a simple cottage as the focal point. The beauty of naive art is that there is no right or wrong, the cottage can be anything that you fancy. The technique described here will help you make a card that will wow your friends with your artistic flair, and the recipient will surely cherish this card for many years.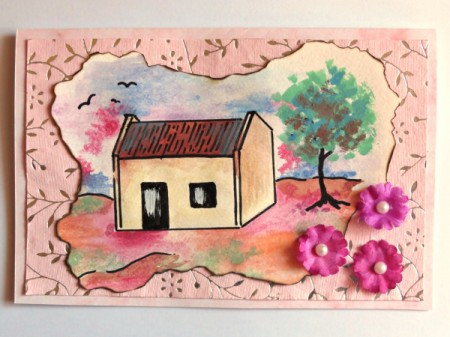 Total Time: 30 minutes
Yield: one card
Supplies:
10.2 x 7.6 in light pink marbled cardstock
7.3 x 4.6 in pink embossed foil paper
7.6 x 5.1 in watercolor paper
three one-inch wide cerise pink fabric flowers
three self-adhesive 3mm pearl stickers
Staedtler 12-color watercolor set
Artline 750 laundry marker
a 10/32" paint brush
salt
pencil
ruler
scissors
clear-drying gel glue (such as Bostik Clear Gel)
box of matches
Steps:
Make a pencil drawing of the cottage on the watercolor paper.

Add a horizon line.
Use brown, light pink, and dark pink for the ground. Add salt to the painted areas while the paint is still wet, and drip spots of green watercolor paint over the salt.

Use dark blue and light blue for the sky. Add salt to the painted areas while the paint is still wet, and drip spots of dark pink watercolor paint over the salt.

Allow the paint and salt to dry thoroughly.
Remove the salt by rubbing lightly over the paint with your finger.

Use brown for the cottage's roof and yellow ochre for the walls.
Use the laundry marker to draw the outlines of the cottage, as well as the horizon line, and add some detail to the roof. Tip: Broken lines create a more interesting end result.
Use the laundry marker to color the door and window.

Use brown to add shadows to the walls of the cottage, and blue for the roof.
Draw the outline of a tree and birds in the sky, again using the laundry marker.

Use green watercolor paint to add leaves to the tree.

Use dark blue and brown to add shadows to the tree.

Cut the completed picture into an uneven shape, and burn the edges of the paper with the matches.

Score the light pink marbled cardstock in half to create a card sized 7.2" x 5.1".
With the fold at the top, center and glue the pink embossed foil paper to the front of the card.
Glue the watercolor picture in place.
Add the three fabric flowers to the bottom right corner.
Finish it off by adding a pearl sticker to the center of each flower.
Christine Weber
0

found this helpful
These striking cards are surprisingly easy to make when you choose simple, bold images such as flowers to paint. Pasted onto card stock, they make an enchanting gift for a mother or beloved friend.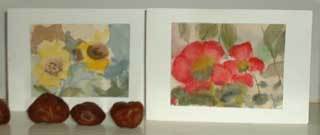 Materials and Equipment:
a large plastic bag or several sheets of newspaper
a plain card and envelope
watercolor paints
an artist's tray to mix watercolors in
good quality watercolor paper
a paintbrush
an empty jar filled with water
paper towel
craft glue
a glue spreader or Q-tip
a pencil
an eraser
a lid from a used plastic container (such as a yogurt container)
an X-Acto knife
a rule with a hard edge
a thick piece of cardboard as a cutting surface
masking fluid (optional), (available at art stores)
photo or picture of a design you'd like to draw (optional)
Instructions:
Before starting, clear the table and cover it with newspaper or a large garbage bag to avoid getting paint and glue on the table.
Take out your paints, watercolor paper, artist's tray, paintbrush, pencil and eraser. Fill a jar with cool water and set aside. There are several ways to do this craft; you do not need to be an artist to create attractive watercolor cards. The trick is choosing a simple, bold design such as a close-up of a flower (see photo). There are several ways in which to create your original design.


Option 1: You can opt to work freeform', painting the design directly as you go.


Option 2: You can pencil in your design on the watercolor paper before you start. If you aren't sure of your design or have never painted with watercolors before, you may want to opt for this route. You can draw a design from your imagination, or you can use a photograph or another picture as a guide. With the pencil, lightly trace the design you have chosen onto the watercolor paper. Keep in mind the size of the card you have chosen. You will be gluing the watercolor painting onto the card, so it needs to be slightly smaller in size.


Option 3: If you like a contained look (watercolors do run a bit), you can use masking fluid to outline your design. Masking fluid dries to a rubbery substance that keeps watercolors from running outside of an area. The area covered with masking fluid will remain white after the dried fluid is removed. Although you should read the instructions on the bottle, the basic idea is to dip your brush in masking fluid and trace over the pencil lines you've drawn. Wait until the fluid hardens (see bottle for directions), then paint your design and allow it to dry. Once your painting is dry, remove the masking fluid (it will now be gummy and can be peeled off). You will have white lines along the outline you drew with pencil. If any pencil marks are visible, erase them.

Wet the entire surface of your watercolor paper lightly with the paintbrush. Do not add too much water, as your painting will warp when it dries.
Paint your picture, mixing your paints in the artist's tray as you go. You can do test patches on another piece of watercolor paper to make sure the color you have mixed is what you want. Remember that colors dry slightly darker than they appear when wet. If you are choosing option 1 or 2, you will need to begin by 'layering' washes of color. This is a main technique in watercolor. Start by adding a light layer of color. Then add more color to accent or darken specific areas or to create shadows and borders. If you are choosing option 3, you don't need to layer your colors as much, because the masking fluid is creating borders for you.
When you've finished your picture, set it aside to dry.
Once the painting is completely dry, measure the card that you are going to place your painting on. On the back of your painting, lightly outline measurements that are slightly smaller than those of the card. Cut along the outline with an X-Acto knife and ruler. Be sure to place a hard surface such as thick cardboard under the painting to protect the table from cuts.
Pour a puddle of craft glue onto the plastic container lid. Spread a thin layer of glue along the back of you painting and glue it to the front of your card. Allow to dry.
Make several cards and tie them in a pretty ribbon to give as a gift to your favorite correspondent.
Related Content