Naive Cottage Watercolor Card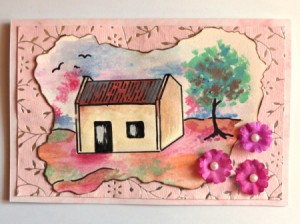 Make a card using the naive art style. Use watercolor paint as the medium of choice and draw a simple cottage as the focal point. The beauty of naive art is that there is no right or wrong, the cottage can be anything that you fancy. The technique described here will help you make a card that will wow your friends with your artistic flair, and the recipient will surely cherish this card for many years.
Total Time: 30 minutes
Yield: one card
Supplies:
10.2 x 7.6 in light pink marbled cardstock
7.3 x 4.6 in pink embossed foil paper
7.6 x 5.1 in watercolor paper
three one-inch wide cerise pink fabric flowers
three self-adhesive 3mm pearl stickers
Staedtler 12-color watercolor set
Artline 750 laundry marker
a 10/32" paint brush
salt
pencil
ruler
scissors
clear-drying gel glue (such as Bostik Clear Gel)
box of matches
Steps:
Make a pencil drawing of the cottage on the watercolor paper.
Add a horizon line.
Use brown, light pink, and dark pink for the ground. Add salt to the painted areas while the paint is still wet, and drip spots of green watercolor paint over the salt.
Use dark blue and light blue for the sky. Add salt to the painted areas while the paint is still wet, and drip spots of dark pink watercolor paint over the salt.
Allow the paint and salt to dry thoroughly.
Remove the salt by rubbing lightly over the paint with your finger.
Use brown for the cottage's roof and yellow ochre for the walls.
Use the laundry marker to draw the outlines of the cottage, as well as the horizon line, and add some detail to the roof. Tip: Broken lines create a more interesting end result.
Use the laundry marker to color the door and window.
Use brown to add shadows to the walls of the cottage, and blue for the roof.
Draw the outline of a tree and birds in the sky, again using the laundry marker.
Use green watercolor paint to add leaves to the tree.
Use dark blue and brown to add shadows to the tree.
Cut the completed picture into an uneven shape, and burn the edges of the paper with the matches.
Score the light pink marbled cardstock in half to create a card sized 7.2" x 5.1".
With the fold at the top, center and glue the pink embossed foil paper to the front of the card.
Glue the watercolor picture in place.
Add the three fabric flowers to the bottom right corner.
Finish it off by adding a pearl sticker to the center of each flower.
Add your voice! Click below to comment. ThriftyFun is powered by your wisdom!
Related Content