I am an artist. I need to know how salt causes the paint pigments to separate and cause a starburst effect?

Reen from Cherokee, NC

Answers
By londa (Guest Post)
February 18, 2009
0

found this helpful
I taught my art students to sprinkle salt on still wet water color painting to make a cool texture. None of us cared how it worked. It was fun, and safe even for kindergarten.
By M (Guest Post)
February 18, 2009
0

found this helpful
The salt absorbs the paint around its immediate area.
By Poll (Guest Post)
February 18, 2009
0

found this helpful
The star burst effect of using salt results in the moisture being soaked up by the salt. I have used this effect on silk painting and water colour. If you use rock salt you get one effect, if you use normal table salt you get a finer effect you can also use epsom salts to create another type of effect.
I hope that helps.
By Reen (Guest Post)
February 19, 2009
0

found this helpful
I thank you for the responses. I am fully aware that this works - I have done it for many years - what I am looking for is the scientific explanation.

May 18, 2017
0

found this helpful
Watercolor is pigment and optional binders suspended in water. The water is what moves the pigment around. When you sprinkle granules of salt onto the paper, it does two things: first the granule absorbs the water it touches, along with the pigment that is suspended in the water, which causes the light specks on the paper.
Second, as it absorbs water, it pulls more water toward it from the rest of the page, along with pigment, which causes those rings or bubbles of color around the pale speck where the salt granule was touching the paper.
Answer

this Question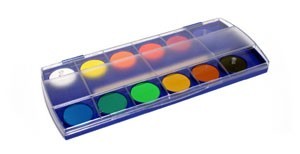 Advice for keeping the paper flat when working with watercolors. Post your own tips here.
Use Water First
First of all, water color paintings are going to "pucker" or curl a bit because of the use of water. My art teacher in high school had us wet the surface that we painted on (not sopping but perhaps with a sponge or wet cloth) and then lay down the water color sheet to be painted. This sort of equalizes the paper, water on bottom and water on top. This helps the paper not to move around, also.
By SL Edens
Stretch Paper And Get Good Quality Paper
Most watercolor artists stretch their watercolor paper on a frame to avoid this happening. Stretching reduces the "puckering" you're talking about. Also, there are many grades of watercolor paper, some are COLD pressed, & some HOT pressed. watercolor paper comes in many price ranges. Below is a website called "Daniel Smith", they are a high quality artists' supply. They will send you a free catalog and happily answer any questions on their 800 number if you'll just contact them:
By Cyinda
Dunk And Staple Before Painting
I usually dunk the whole sheet of paper in a dish pan of water, then staple it to a to a board, let it dry (it will shrink just a little). When it is dry, you can paint on it, while still stapled to the board. Eliminates a lot of the wrinkling.
By sundaeskies
Lightly Soak Paper
Yeah, lightly soak the paper, than paint on it.
By Robin
Expert Advice For Cheaper Paper
Watercolor painting can be a challenge, and 'stretching' paper may seem just 'too much' before getting to get right to what you want, painting! With just a few minutes prep-time, you can have a great surface to paint on which will give you better results.
With lower grade paper, (lower weight per sheet), soaking (yes, sloppy wet soaking)of the paper works best. Soak the paper for a few minutes submerged in water, lay it out over a wooden board and stapled the paper every few inches around the sides, starting from the center edge of each page, then the corners, then in between those staples. Let the paper dry and wha-la! 'Stretched paper' that won't buckle on you and pool your paint where you don't want it. Practice makes perfect--let me know if this is helpful to you. :)
By Kerra
Answers
By Mona (Guest Post)
July 27, 2008
0

found this helpful
Use masking tape to create a "frame" around all four edges of your paper, taping it to your table, drawing board, or whatever you are painting on. If you are not using good watercolor paper (very expensive) just try using a little less water when you paint. Leave the painting taped down until it is dry.
Answer

this Question