Watercolor Painting Using Markers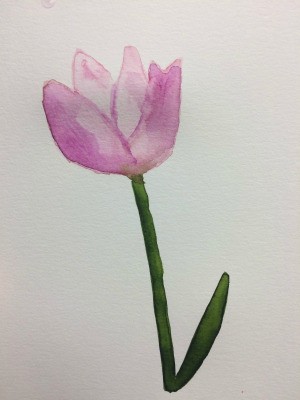 I've found a cheat way to make watercolor paintings using markers, water, and a fine watercolor brush. For this project I've used Crayola fine tip markers, watercolor paper, a watercolor brush and a Dixie cup of water. These paintings are much easier than regular watercolor as you have a better selection of colors and the fine tip of the markers allow sharper lines and easier control of the pigment.
Total Time: 10-15 Minutes
Yield: 1
Supplies:
1 pack Crayola Markers
1 watercolor brush
watercolor paper
paper towel
water
Steps:
Gather your supplies, and choose which colors you will use in your watercolor. For this project I'm painting very simple flowers, and I've used 3 colors.

Draw your stem then leaf, and deposit as much pigment on to the paper as you can, going over your lines several times. Then dip your brush and saturate the stem and leaf in water. The water and paper will do the rest. Then let your stem and leaf dry.

Outline your petals and the shape of your flower with your lighter color. For this watercolor I used a light pink. Again, use quite a bit of pigment and continually go over the lines/petals.

Saturate your petals with water. When they are about half dry, apply the darker color on the outsides of your petals. I used a medium purple color. Blend the color in with your brush and ample amounts of water.

Gently pat the inner parts of your flower with a paper towel to add depth.

Add the "lines" on your petals and very lightly blend with your brush.

(Optional): Add more marker where you want it and blend with your brush.

Let your watercolor dry completely and keep it flat, otherwise your water will bleed outside the lines.
You're done! You can now frame your painting, use it on a card or just enjoy making your art.
Published by ThriftyFun.
© 1997-2023 by Cumuli, Inc. All Rights Reserved.
https://www.thriftyfun.com/Watercolor-Painting-Using-Markers.html