Ever wonder how to mail a snow-globe in an envelope? With this easy technique of making "Shaker Cards", turn your hand-stamped cards into dimensional windows that you can fill with confetti, potpourri or anything you like.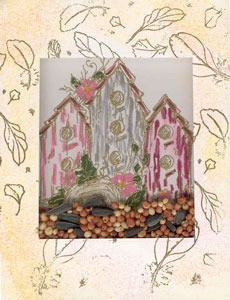 Materials
rubber stamp of your choice
blank greeting card that is at least 1/2 inch wider than your rubber stamp block
blank card stock cut to the size of the front of your greeting card
clear acetate - this could be recycled overhead transparency, plastic out of a gift box, recycled Rolodex card covers - it just needs to be at least 1/4 inch wider all around than your stamp block
foam board piece the size of the front of your card
double stick tape or roller adhesive
glitter, confetti, or other embellishments
X-acto knife with a new blade
ruler
ribbon or raffia 1.5x the diameter of the foam board piece
Instructions
Working on the back side of the piece of card stock, flip your stamp upside down and trace around the wooden block. Cut out on the lines you have drawn. This will form your frame for your shaker window.
Align the card on top of the foam board, and trace inside of the frame you just cut out. Take your ruler and mark again 1/8 inch outside of that line. This will allow your frame to cover the inside edge of the foam board.
Cut on the outer line you just drew. Cut with the blade very vertical, and cut slowly so as not to fray the foam. You may need to make multiple passes.
Put the acetate under the foam window, and using a crayon (will wipe off later) trace inside the window. Then mark 1/8 inch outside that marking and cut out the acetate, being sure that the width of the acetate is not going to show outside of your card stock frame.
Mark 1/8 inch from the outside edge of the foam board on all sides and trim that away. This will make your foam slightly smaller than both your card front and your piece of card with the frame cut out, so that you can hide the edges of the foam. Set the foam aside.
Using the frame card stock to align your image, stamp your image on the greeting card. Emboss, color, and embellish as you wish at this time.
Decorate the outer frame card stock as you wish to compliment the inner image.
Put double stick tape or roller adhesive on the back of the foam board, being sure to take it all the way to the inner edge of the cut out, but try to avoid getting adhesive on the lip of that cutout as it will cling to your "shaker" materials. NOTE: it is important to dry-fit your cover frame and foam and greeting card to be sure which side is up, as the foam may not be perfectly symmetrical and may not align properly if you get it flipped over.
Adhere the foam board to the card, centering the window over your stamped image, and being sure the foam board is straight on the card. Flip the greeting card over and rub from the back to ensure good solid adhesion.
Fill the window with desired confetti. Don't overfill, or it will obscure your image.
Apply double stick tape or roller adhesive along the outer edges of the foam board window, again being careful not to get adhesive on the lip.
Center the acetate over the filled window. You can cut down on fingerprints and static by wiping down both sides of the acetate with a dryer sheet before adhering it. Be sure to rub the edges with your fingernail to get a complete adhesion, or the confetti may slip out.
Put double stick tape or roller adhesive on the back of your cover frame, and adhere it in place. be sure to get the adhesive close to the inner window edges to help hide the inner edge of the foam board.
Use raffia or ribbon to cover the raw edge of the foam board by wrapping it around between the cover card and the greeting card. Other embellishments may be added as desired.
If you plan on doing an inside greeting, it is recommended that you do that "before" assembling the cover.
Photographs can be used for the inside in place of rubber stamps, just give yourself 1/8 inch smaller than the size of the photo for the frame so you don't see the card around the edges.
Besides traditional confetti and glitter, fun combinations or materials include:
birdhouse stamp with birdseed inside
coffee beans with a coffee cup stamp
lavender or other dried flowers
raw popcorn (use multiple layers of foam board glued together to make a deeper window for this)
mini chocolate chips or M&M's
beads
snippings of packing peanuts rolled between your fingers to make snowballs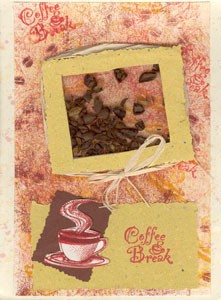 By Regina from Rochester, NY
Comments
December 27, 2007
0

found this helpful
Those are really nice, anyone would be delighted!
By Judy (Guest Post)
December 27, 2007
0

found this helpful
What a great idea! I would be thrilled to get a card like that! Wish i could think up one with mini M & M's for my hubby! =) Thanks for sharing! HUGS, Judy
December 27, 2007
0

found this helpful
Thank You for taking the time to submit these lovely cards... I'm going to make a scaled down version with my 5 year old granddaughter... Again, Thank You!
Hey! How about these ideas?
-- Rice inside, used for a Wedding card!
-- Or, Using a small punch, punch out tiny snowflakes
-- Tiny Glitter stars or confetti
-- Shredded paper
-- Catnip for a cat card
-- Dried Peppermint (yummy smelling)
-- Tiny dried cat food or tiny dry "Cat treats"
-- Little hard multi color candies
-- Red hot hearts (Valentines day)
Can you guys out there think of other things to put into Snow Globe Greeting Cards?
*** I don't know if these things & the things you mentioned above can be sent through the mail... But, IF you do decide to try sending one of these cards through the mail, I'd at least write "HAND CANCEL" on the envelope!
December 28, 2007
0

found this helpful
Forgot to mention mailing these - if you plan to send one in the mail, you should consider getting a bubble/padded mailing envelope, and also marking it "hand cancel" - that will help prevent the shaker window from getting crushed.
Read More Comments