Making a Fall Pumpkin Decoration from a Lettuce Keeper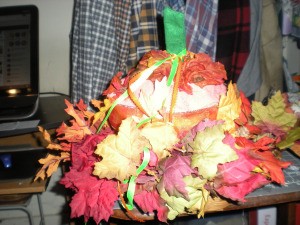 I am decorating the house in autumn/fall décor; a little bit each day. I wanted a fancy pumpkin to sit in one of my baskets and display it in the kitchen. I love recycling/upcycling when I can do it, and I didn't want to spend any money (don't have any extra money anyhow lol), so I poked around in the back storage room and decided that the old lettuce keeper, which not only didn't keep the lettuce fresh, but took up way too much room in the fridge would be perfect.
I took some textured material, felt, fall leaves, and ribbons, lots of pins, and some glue and made a fall pumpkin to sit in my basket. I think it came out pretty good, and I can remove all the materials afterwards if I want too.
Total Time: 1 hour
Yield: one
Supplies:
1 round plastic lettuce keeper or any round plastic bowl with top
25 fall leaves (paper, cloth, or silk)
3-4 yds ribbon, colors of your choice (I used orange and green). 1 spool of wide (1 and1/4 inch), and 1 green and one orange of 1/2 inch ribbon spools.
80+ lots of small straight pins if you are not going to make this decoration permanent on the bowl. Hot glue and gun if you are going to leave decoration on bowl.
1 piece of thick green felt for stem - cut 2 pieces, sew together, and turn and stuff.
1 basket and more fake fall leaves to place your pumpkin into
1 and 1/4 yards of textured orange material or smooth material
scissors
stuffing for stem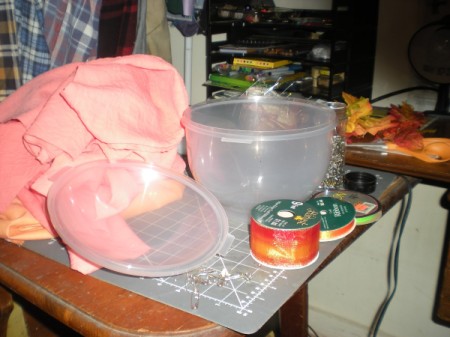 Steps:
Measure around the outside of bowl on top of material. Make sure you leave at least 4" of extra material to secure to bowl. Do the same with lid.
To secure material to the bowl without using glue, make tucks all around the ends and pin securely. This will take some time (about 15 minutes). I used my glue gun because it took less time and I am not planning to reuse the bowl. Repeat with the lid. Place the lid on the bowl. (I hot glued mine on. You can use 2-sided tape to make sure your lid is snug.)
Cut out 2 stem shaped pieces from green felt. Sew leaving bottom open, turn, and stuff lightly. I recommend gluing the stem to the top of the lid on material. Place 2 leaves first, glue them down, and then glue on the stem.
Take wide ribbon and wrap around the upper edge of the bowl. Secure with pins or glue onto material. Measure out the thin ribbons so there will be at least 6" hanging down from top of pumpkin stem.
Add fall leaves all over the top and sides of the pumpkin using either pins or glue. Add a leaf where you pinned the wide ribbon. Take thin ribbon, fold in half make into a loose knot, and tie loosely over the top of the stem so they hang down in streamers.

Take basket, place pumpkin in center, and surround it with fall leaves. Place in center of table, shelf, or in my case on top of the fridge.
Published by ThriftyFun.
© 1997-2022 by Cumuli, Inc. All Rights Reserved.
https://www.thriftyfun.com/Making-a-Fall-Pumpkin-Decoration-from-a-Lettuce-Keeper.html