I am planning a surprise 70th birthday party for my dad who is the avid fisherman. I have been trying hard to come up with a neat, creative idea for a centerpiece (fishing theme) to use on all the tables, but haven't been able to come up with anything. Any thoughts and ideas would be greatly appreciated.
Thanks.
By Sara from Huntington Beach, CA
Answers
March 11, 2010
0

found this helpful
Best Answer
For the mature fisherman use a fish shaped cake pan to make any flavor cake you like. Use various icing colors to make your cake look like a fish. Or leave it to the professionals. Bakeries could bake a fish cake with just a couple days notice.
Fisherman's Centerpiece
Use a Photoshop program to crop your fisherman's head on a picture showing the one that got away. Put the fake fishing story in a frame on his birthday gift table. If you have them you could use real pictures of past fishing trips. Scatter fishing lures around the table minus the hooks of course. You could use a plastic boat as a table centerpiece. Cover tables in blue cloth for beautiful ocean feel. Use plain unscented white candles in fish shaped candle holders for an elegant table touch.
Fishy Foods
Small children love finger foods. Give them Goldfish crackers in various colors. Fish sticks or tuna fish sandwiches are keeping in the fisherman theme. Use fish shaped cookie cutters to carve fish shaped sandwiches. More mature taste buds could enjoy seafood salad or some baked fish. For kids you could make candy sushi out of fruit roll ups and cream cheese frosting. Put fish crackers all over the table for your dad.
Decorations
Visit the dollar store and load up on decorative fishing nets. Hang them over table clothes and from walls of the party room. Place plastic fish and starfish in the nets and scatter some on the tables. Use blue and green streamers, helium balloons and fish cut outs for the walls,also get the singing fish you can hang on the wall after the party is over.
Good luck.
March 11, 2010
0

found this helpful
Best Answer
I made my father in law a cake one year, a large sheet cake. It had a lake on one end made with wilton gel. The other end was a sandy beach with palm trees, with a little man character complete with pole. Stores that sell wilton usually have these, or call wilton directly to order if you have enough time.
I've made centerpieces with small fish bowls with gold fish and have the miniature poles going into the water. Lures and bobbers around the edge. Have fun with it!
March 15, 2010
0

found this helpful
Best Answer
Use vintage china fish/gurgle jugs filled with flowers. Google gurgle jugs or check out ebay fro pictures.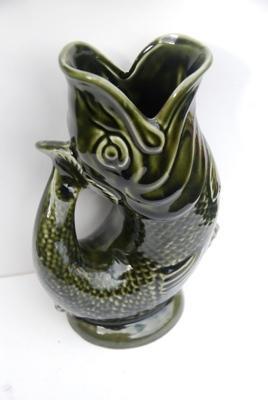 March 12, 2010
0

found this helpful
How about making miniature magnetic fishing games for each table, using fish made with thin cardstock and paperclips (bare metal) and fishing rods with tiny magnets. Any small, non-metallic container would do for the bowl/pond
You could then have sentiments, jokes, memeories or quiz questions about the birthday boy's life and interests written on the fish to get people laughing and talking right from the start!
Read More Answers