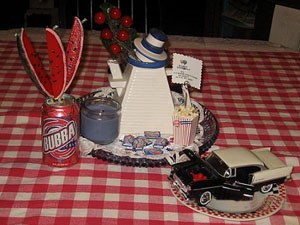 My husband's 61st birthday (his nickname is Bubba) was in July and I wanted to decorate the table for the occasion.

I began with covering the dining room table with a white lace tablecloth; with an overlay of a red checked tablecloth, a round blue glass platter was placed in the center of the table; a lighthouse teapot was positioned; it has a cascade of artificial cherries in it with the teapot top ajar. A blue candle was placed nearby; I scattered red, white and blue stars around the blue platter plus Bazooka bubblegum; a small popcorn box tag holder held a tag with Happy Birthday Bubba on it; a Bubba Cola can held 3 watermelon slice candles; on a Coca-Cola plate I placed a 1957 model Chevrolet; I opened the doors and the hood on the car.
The salt and pepper shaker and toothpick holder were placed on an oval blue bowl; I placed 3 strawberry candles to give it a festive effect.
On the breakfast bar near the dining room table I had a patriotic ice cream bouquet, a vintage Charlie Brown glass and a Coca-Cola plate with Bazooka bubblegum on it.
It was a fun-filled day for my husband and family.
By WandaJo from TN
Read More

Comments
I am throwing a surprise party for my dad's 50th birthday party, and am holding it at a restaurant. We are keeping an African safari theme, and was looking for ideas to make centerpieces for it. I am currently drawing a blank and would greatly appreciate any suggestions. Thank you!
Hinal
Answers
By Regina (Guest Post)
June 15, 2004
0

found this helpful
You could do an Oasis - fill a shallow glass bowl with play sand, Nestle a flower pot with a small palm, fern or other tropical looking plant to one side. Your "water" can be a small blue glass votive also nestled down into the sand with a votive candle in it.
By Tawnda (Guest Post)
June 15, 2004
0

found this helpful
You could buy a few fern or ivy plants (real or silk) and find inexpensive ceramic safari animals to place strategically around the plant or between plants on the table. You could get animal print material and wrap around the flower pot or vase they are in.
You could make a runner for the table from animal print sheer material. And get tealight candles and place down the center of the table. You won't necessarily need any fancy candle holders, you could set them on the table as they are.
Depending on the size of your party and whether or not you are needing to make name tags for seating arrangements, you could use animal print paper or cardstock that you buy for scrapbook pages and cut them to size and fold in half to sit up on their plate or near their plate. Use a solid piece of lighter colored paper to glue on the front with the name printed on it.
Depending on how fancy or how fun you want the decorations, you could buy a package of plastic safari animals and place those up and down the tables.
Look at a party store for safari decorations and you may find a safari type hat that you can place on your dad's place setting.
By Becki in Indiana (Guest Post)
June 21, 2004
0

found this helpful
Let's think about the various animals you would find in Africa .... is there a Lions Club in or near your town? They may have a collection of lion prints, ceramic knock-knacks, etc which they might loan you. I bet the local Republican party headquarters has elephant decor. Offer to leave a security deposit until you have returned the items, or make a donation to the organization.
Also, Noah's Ark is a popular decorating theme which you may be able to tap into. You could also borrow from a circus theme. How about small packets of animal crackers as party favors?
By coleen. (Guest Post)
July 30, 2004
0

found this helpful
get inexpensive pillar candles in white or off white. Then get some safari printed tissue paper and decopage the candles with it..they look like the more expensive ones, but are very inexpensive and fun to make. just sit them on a sisal coster and they look great...just be sure to watch them closely if they will be lit.
By Debi. (Guest Post)
September 19, 2004
0

found this helpful
Hi, How about shopping for stuffed animals that one might find on an African Safari and use them as your centerpieces with perhaps a bouquet of helium ballons attached. It might be fun to sit at a table with an elephant, giraffe, monkey, lion or tiger in the center. Later you can have a contest and the winner takes it home.
Also, keeping with the theme how about purchasing plastic safari animals and using them to hold place cards.
By lili (Guest Post)
November 23, 2004
0

found this helpful
I am looking for an idea for my sons communion. I want animal safari centerpieces, but i'm not exactly sure what kind. Any input would be extremely helpful.
By Sarah (Guest Post)
May 4, 2005
0

found this helpful
I threw a safari couples baby shower. And made nests out of gift basket filler (any craft store should carry) And then spray painted easter eggs in white, blue, and speckled colors. I also placed plastic jungle animal figures that I had bought from walmart on the tables. You can also buy animal print fabric and cut in squares and place the nests on top.
By debi (Guest Post)
January 18, 2009
0

found this helpful
My daughter is incharge of decorating for her high school's "guys pagent" where the theme is safari. She needs table decorations. Help!
Answer

this Question
We're giving my mother a surprise 75th birthday party. I don't know what to do for the centerpieces. There will be 10 tables with 10 chairs at each table. Help me please.
By Anne
Answers

Linda L.
Bronze Tip Medal for All Time! 64 Tips
January 19, 2012
0

found this helpful
I like using green plants, 6" potted plants can be had for about $6 in places like Home Depot. Use fabric or tissue paper to cove the ugly pots or buy some "pot-covers" from a floral supply.
To add some color snip a few silk flowers and tuck them along side the live greenery.
Read More

Answers

We are giving my brother in law a 50th birthday party. He is really into outdoors and hunting. Looking for a centerpiece idea.

Penny102 from Port St Lucie , FL

Answers

Myrna
Bronze Feedback Medal for All Time! 168 Feedbacks
January 24, 2008
0

found this helpful
The centerpiece could be something consisting of a group of things used during camping and then the birthday guy would be given the centerpiece after the party ends.
Camo blanket as a tablecloth and a basket full of fun/necessary stuff used for camping/hunting. Going to a large sporting goods store can give you lots of ideas.
By lindajean (Guest Post)
February 2, 2008
0

found this helpful
When I married a cop my bouquet had bullets and handcuff keys spray-painted gold and wired into it. Maybe shot-gun shells, etc. wired into any floral arrangements?
Answer

this Question