December 21, 2009
0

found this helpful
Best Answer
It's a cover usually made from flowers and such. Here is a photo I got from googling "grave blankets" and you can find out a lot by doing just that. Hope it helps!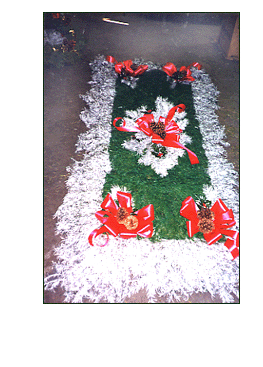 August 26, 2014
0

found this helpful
Best Answer
Many cemeteries will remove flowers once a week for mowing, even if you place them the day before. Some will not allow silk/plastic flowers at all due to riding mowers. The wires foul up the equipment.
Also many cemeteries are not allowing Monument/Headstones anymore. They are using ground level markers because they can mow over them. It's less time and work for big places. Best check with the office to see what they allow before going to the expense.
Deer will eat most flower tops. They LOVE carnations. They will shun Yarrow and Bird of Paradise though. Casket Sprays are laid on top of the grave after services instead of blankets in some states.
December 12, 2009
0

found this helpful
Search for Grave Blanket that deer don't like lot of info there, good luck.
December 12, 2009
0

found this helpful
I would think if you use silk/plastic greenery and flowers that would prevent the deer from eating it. Any animal is apt to eat the real things. For instance when I have flower pots on my patio, the squirrels and rabbits are always in them.
December 12, 2009
0

found this helpful
I've never heard of a grave blanket before. What a nice idea!
July 8, 2014
0

found this helpful
I would google.com your question. Since my hubby passed away in 2012 I've been thinking I would like to cover our stone and my mothers by doing this: Measure the edges of the stone.
Make a wire frame with wire prongs at each corner to keep from blowing away. Hot glue silks or plastic flowers/greenery to top of form. I have never seen one do this, but it will be beautiful and yet everyone can see the name inscribed.
July 8, 2014
0

found this helpful
I got curious because I plan to use silk flowers on my grave decoration idea, so I went to ask.com, and it specifically says "deer don't like silk or plastic flowers, but they love real flowers so this Milltown cemetery put up a sign to not leave fresh flowers or the deer will devour them!"
Hope this helps. ec