After desperately searching for a magnetic knife rack to save kitchen counter space, I never found any that would just attach to the fridge without having to drill holes.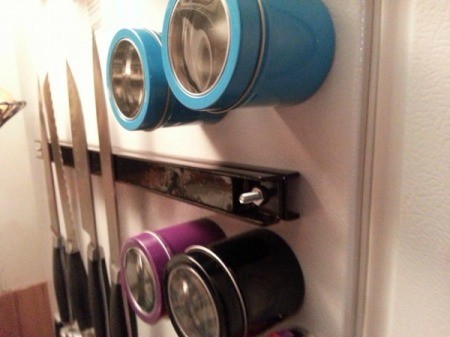 My roommate and I found cheap magnetic bars at Harbour Freight and we used screws and nuts to attach two together back to back. One side holds it on the refrigerator, while the other side holds the knives. Now I never have to search for knives, they are right where I can find them.
Goodbye big knife block, that is always dusty. It also broke the roomie of leaving wet knives laying on the counters. By hanging them up they dry faster. I like it because it's using a bunch of space that was normally wasted right on the side of the fridge.
I got extra bars to hang on the wall in the laundry room to hang tools we tend to need inside, such as scissors, screwdrivers, box knives, etc.. They could even hold small yard tools outside as well. The magnetic bars can be screwed right to the wall if you don't have a magnetic surface available.