This fluffy and colorful caterpillar craft is a perfect quick activity. It's cheerful pom-pom body and sweet red foam smile helps bring charm to any room.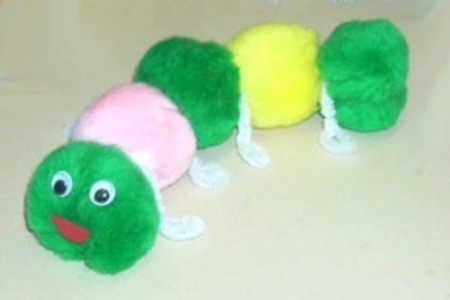 Approximate Time: 15 minutes
Supplies:
large pom-poms - five - 1 inch big, assorted colors
chenille stems - four - 18 inches long, any color
googly eyes - two - 1/2 inch big
foam circle - 1 inch big, red
glue
scissors
Instructions:
Take your colorful pom-poms and line them up in a row, as shown in the "Step 1" picture. Glue the pom-poms together and let dry. At this point you have something that looks almost like a snake.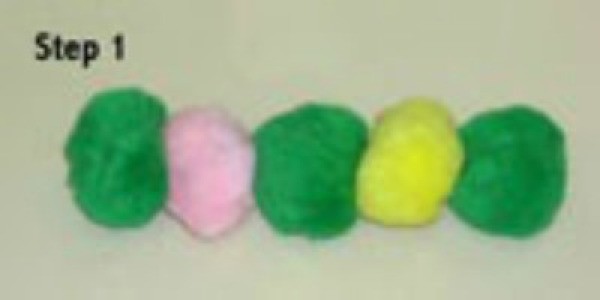 Bend a chenille stem in half. Take each half and fold *it* in half, making a "W", as shown in the "Step 2" picture. Twist the stem around, leaving a small loop as the "foot" on the end. Repeat process with other half of chenille stem, as shown in the "Step 2" picture. Do this folding to all four chenille stems.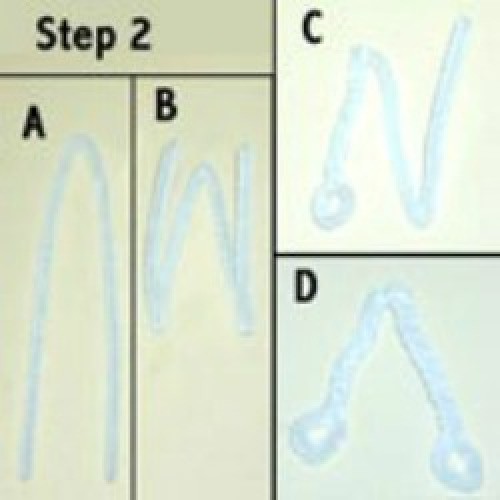 Take a chenille stem and wrap it between the pom-poms, as shown in the "Step 3" picture. Bend the legs down to they look like legs. Add a little glue to hold the stem in place. Repeat process with all the chenille stems. Let dry.


Glue the two googly eyes on upper part of the front pom-pom, as shown in the "Step 4" picture.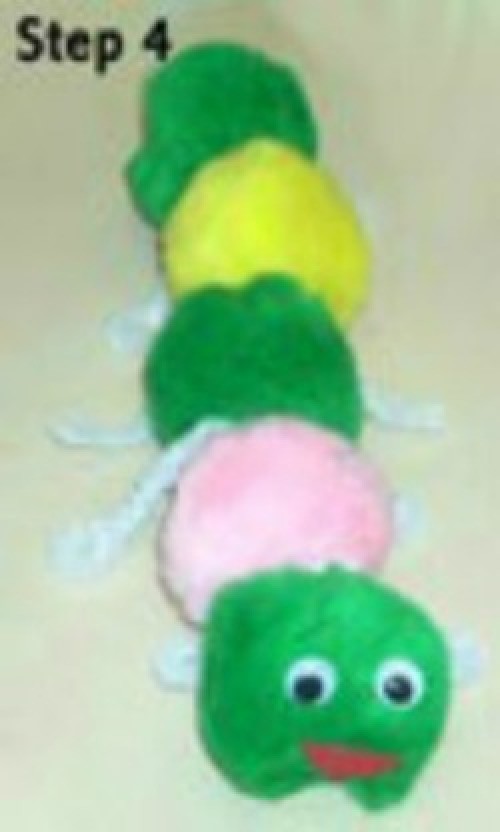 Cut the foam circle in half. Glue half the circle below the eyes as a mouth. Let dry. You"re caterpillar is now ready to display, give away, or turn into a toy.
Note: If you feel like making a snake instead of a caterpillar, skip the steps for making and attaching the legs. Just glue the pom-poms together, add the eyes, and let dry. Voila, you have a colorful snake.
Older children can use the caterpillar for a toy, but younger children should only use it as decoration. There are small or pokey parts (googly eyes and wire in chenille stems) that may injure young children if they play roughly with it.
By Aysha from Boise, ID
Comments
August 13, 2008
0

found this helpful
how sweet. and so simple to make
I love it !
By Teri M (Guest Post)
August 13, 2008
0

found this helpful
This is great. Would make wonderful Christmas Presents
August 14, 2008
0

found this helpful
His name must be Curly. I just watched The Talk of the Town, starring Cary Grant, last night on tv. He's a theater owner who partners with a little boy who has a dancing caterpillar named Curly. It's a good, old-fashioned family movie with a nice, surprise ending.
August 14, 2008
0

found this helpful
OMG! I love Cary Grant! I definitly have to change the caterpillars name to Curly! How perfect!
Read More Comments