Kelly Ann Butterbaugh
0

found this helpful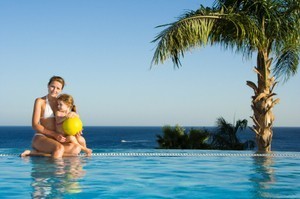 When planning a family resort vacation, unexpected savings might be closer than imagined. For example, resort vacations often offer free stays for children under 12 or other perks that make planning and paying for the vacation a bit easier. Booking with a travel agent can also save money on airfare and upgrades, and agent booking fees are minimal in comparison to the savings they sometimes provide.
Choose Your Destination Carefully
Unless you've always dreamed of visiting the Bahamas, plan your resort vacations carefully. Rather than choosing a destination first, choose a general location and a type of resort first. Then, look through catalogs or brochures until you find a few resorts that meet your needs. Often, the prices between one destination to another are astronomically different.
The Caribbean islands, for example, combine a variety of governing countries. Some price their resorts higher than others based on the value of a dollar.
From an economical perspective, if all you're searching for is a Caribbean vacation, choose one that best fits your budget. Closer isn't necessarily cheaper, and staying in your home country isn't always cheapest either.
However, if you've had your heart set on Barbados then no amount of money saved will make up for visiting a different island. Similarly, if you want to stay in US territories, by all means stay there. However, if you want to find the cheapest luxury resort in the Caribbean, shop around.
Don't Skimp on Airfare
Airfare prices are daunting; be prepared for them. There are great deals on flights, good times to fly, and package deals that offer savings. Websites offer tips and booking help as do travel agents. However, don't plan a vacation around avoiding airfare; it won't save you money.
Cruise ships that leave from ports in Florida and Puerto Rico often sail at prices cheaper than those leaving from northern ports such as New York or Philadelphia. Trying to save a few hundred dollars on airfare doesn't work when the cruise costs $500 more to leave from a different port. Similarly, those northern ports schedule more time on the boat and less time on land (islands). Some are even known as cruises to nowhere since they spend all their time at sea before returning to their ports. This may not be worth the savings.
All-Inclusive is All Good
All-inclusive resorts carry high price tags, but itemize your costs and compare. Add up three meals a day, snacks, drinks, and basic on-site entertainmentfor everyone in the family. Now, add this to the basic fee for a week's stay at the non-inclusive resort. All-inclusive is a good deal, right? Usually it is, but there are exceptions.
All-inclusive stays also offer something not seen in their prices; they offer true relaxation. Here, there are no gratuity bills that will appear under your door on the last night of your stay. No one has to carry an ID card all week to charge drinks and snacks to the bill. It's all-inclusive: all the food, all the fun, and all the relaxation.
Kelly Ann Butterbaugh
0

found this helpful
As summer approaches prime time vacation season heralds its arrival as well. Enjoy the trip without the aching wallet with some planning.
Avoid the Popular Crowd
The rule of supply and demand states that the more popular the location the more it can and most likely will charge for admission. Avoid the popular destinations by finding the same type of destinations closer and cheaper. For instance, the beach at Ocean City, MD is overly booked during the summer months, but lesser known Dewey Beach, DE is not.
The More the Merrier
Likewise, look for group packages in popular destinations. Often by gathering a group of friends, running a church group, or organizing a family reunion the price of admission to several historic locations as well as amusement parks around the country is significantly lower.
Sometimes it's not just more people which lower the cost; it's more stops. Many national parks offer the option of buying a park pass which guarantees entrance into several parks for one price. Some historic tours do the same. For example, by purchasing a National Parks Pass the bearer is allowed admission to any National Park across the country. While the pass itself costs $50, many parks cost as much as $20 to enter.
Amusement Park Savings
Popular with families are the amusement park vacations, yet these can be quite expensive. Take the above advice and search for a lesser known but family friendly amusement park. Parks that charge per ride rather than entrance benefit those who ride less, and usually an all-day pass is offered for those who ride more. Again, try to organize a group and enter at the group rate. By reserving a pavilion, the group gets a cheaper entrance rate and often a meal is included in the package.
Plan the visit to the park for after hours. Not only are lines down because most bus tours leave after five, but the rates drop significantly. Dorney Park and Wildwater Kingdom in Allentown, PA charges $34 for a day's entrance, but starlight entrance into the amusement park (Wildwater Kingdom closes at dark) is $18.
Location is Everything
With gas prices taking a large chunk of the vacation budget, opt for closer vacations. There is no prerequisite of an all day drive to make it a family vacation. Search for local getaways instead. Search for church festivals and local carnivals that will interest the family.
As important as location is, timing is crucial to savings as well. Check off-season prices for hotels at the shore. Often by leaving a week earlier, one can avoid the increased "summer rate." This can save $100 per night in some areas.
Regardless of what you do for your summer vacation, remember to plan ahead. Rather than charging this year's vacation, keep this one small and put away for a longer vacation next year. By putting away $20 a week, a fine summer vacation can be had next year.