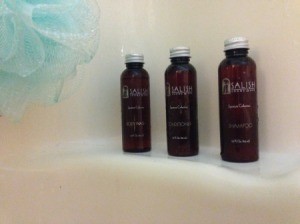 Recently, I was able to get away for an overnight with my sisters. We all have children so spending quality time together is more challenging. Our "Sister Spa Weekends" have become a yearly tradition, even though we can usually only manage to pull ourselves away for one night.
This year, we went to the Salish Lodge, which overlooks Snoqualmie Falls, in Washington. We spent most of our time soaking in their beautiful spa. My sister, Mara brought face and hair masks, which we applied back in the room. We used the provided herbal shampoo to wash our hair afterwards and it smelled wonderful!
I brought home an extra set of toiletries and saved them to use later. When I used the shampoo, its smell instantly reminded me of my sisters and our weekend. I did this when we went to Hawaii a few years ago too. The shampoo smelled tropical and expensive. When I used them later, it transported me back to Honolulu and our beautiful hotel.