December 14, 2019
0

found this helpful
Best Answer
I'm not sure about the recipe but my friends really like this one:
www.mccormick.com/.../bag-n-season-country-style-chicken
grocery.walmart.com/.../15435635?wmlspartner=wlpa&selectedSellerId...
I have not tried it but I do like the convenience of using the cooking bags.

Judy
Gold Post Medal for All Time! 677 Posts
December 11, 2019
0

found this helpful
McCormick keeps their recipes top secret. You will have difficulty finding it.

poehere
Bronze Post Medal for All Time! 105 Posts
December 11, 2019
0

found this helpful
It seems this is a very popular question and Thrifty Fun has put together a great post with tons of recipes and answers that should help you out. I saw some great recipes on this page and I am sure you can find one that you like.
I know I saw a few I want to try.
www.thriftyfun.com/McCormicks-Copycat-Recipes.html

Pghgirl40
Bronze Feedback Medal for All Time! 196 Feedbacks
December 13, 2019
0

found this helpful
This is not one of the ones I know, so I can't offer any specific recipes to try.
What I can share is if it has been discontinued in the recent past, you can often find spices like this at the discount outlets like Big Lots, Ollies and even on eBay.
The only caveats are always check the expiration dates and if you are buying on line, check the sellers feedback very carefully before buying from them.
I often purchase discontinued food and make up from eBay and am always pleased with my purchases.
Hope you can find what you are looking for in one of these places!
Prayers and blessings!

April 22, 2020
0

found this helpful
I have also been trying to find a copycat recipe for the country chicken. I found a picture of the package online though:
1. Preheat over to 350 F. Arrange opened cooking bag in 9x13 pan. Place 2.5 lbs chicken parts in single layer in bag.
2. Stir seasoning mix, 1/3 cup flour and 2 cups water with whisk until smooth. Pour over chicken. Close bag loosely with nylon tie. Cut 4 small holes in top of bag to allow steam to escape.
3. Bake in lower half of over for 1 hour. Remove from oven and let stand 5 min. Cut open bag, stir sauce and serve with chicken. Serve with rice, noodles or biscuits.
Ingredients include: salt, corn starch, onion, sunflower oil, corn syrup solids, carrots, wheat flour, corn gluten and wheat gluten, torula yeast, dextrose, milk, soy flour, paprika, yeast extract, chicken broth, soy lecithin, turmeric, natural flavor and chicken fat.
unfortunately, I don't know how to convert the ingredients into a recipe. It appears as though the flavoring comes from chicken broth, milk, onion, paprika and turmeric?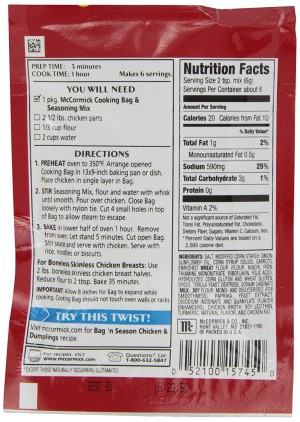 April 22, 2020
0

found this helpful
I mixed together a package of onion soup mix with garlic, paprika, tumeric, parsley, chicken broth and milk and it tastes pretty good. Although I remember that it tasted amazing, I can't remember now how the McCormick Country Chicken spice pack tasted.
The ingredient list indicates 'spices', what other spices do you think were in the original recipe?

August 11, 2021
0

found this helpful
I've developed one of my own.
Combine the contents of one regular bag 'n season chicken seasoning packet with one envelope of Instant Cream of Chicken soup (Lipton's or similar), then apply that to the chicken and roast in the bag as directed.
Very simple, very satisfying, and tastes just like I remember the real thing tasting. And the juices make an out-of-this-world gravy!