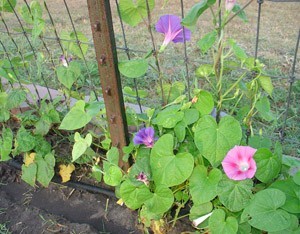 Morning glory vines have started to climb my garden fence. I planted them from seed early in April, having in mind that they will eventually grow tall and thick enough to provide afternoon shade for the vegetable garden in a very pretty way.

By Susan from Rio Grande Valley, TX

Answers:
Garden: Morning Glory Photos
Morning Glories bring back memories of my grandmother's garden. They are one of the heirloom varieties that people remember most. Thanks for sharing. (04/29/2009)
By vickie guy
Garden: Morning Glory Photos
I have morning glories all over my fence for privacy and because my MOM LOVES THEM. At the end of the season the blooms will turn into little pods and when they become dry you can collect them or let them naturally drop the seeds for next season's growth. I love morning glories. You will have a cover with them for sure, they take over pretty fast!

I love bringing them in and putting them in a vase of water.

They are so amazing how they open in the morning and close during the day!
(04/29/2009)

By Robyn Fed
Garden: Morning Glory Photos
I planted them on the edge of my garden one year and they took over! It has taken me 3 years to get rid of all the volunteers that keep popping up! I hope you do not have that problem. (05/03/2009)
By Karla