Jess
Silver Post Medal for All Time! 267 Posts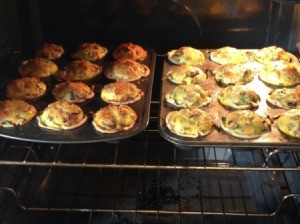 These single serving quiches are perfect for a brunch party but can also be reheated for a quick breakfast. Vary the ingredients depending what you have in the fridge. I have done Greek, Italian and Mexican inspired quiches, as well as ones using traditional breakfast ingredients. They always turn out great.
Don't let the length of the directions scare you, it's really not very hard at all and there are many places where you can take shortcuts. However, mini quiches are more time consuming than a full size quiche, so plan accordingly. A helper to prep is really nice here. My kids have often helped. Kids always seem to love quiche, perhaps because it is so customizable, like pizza.
Total Time: 30 minutes for prep, 45 minutes for baking
Yield: 24 quiches
Ingredients:
12 eggs
1 package refrigerated pie crust (2 crusts, or use your favorite crust recipe)
3 cups milk (use anything from skim to half & half)
3 cloves garlic, crushed
3-4 stems of fresh thyme, plus some chopped for later
1 yellow onion, cut into thin slices
1 cup mushrooms, sliced
3 cups grated cheese mixture (cheddar, Swiss and Italian blend)
2 cups spinach, washed and cut into strips
1/2 cup crumbled bacon (about 3 slices)
salt and pepper
1/2 cup grated Parmesan
1 Tbsp butter, plus more for buttering muffin tin
Feel free to reduce this recipe by half, or bake a half recipe in a full pie plate (increase cooking time to 60 minutes). If you are short an ingredients, I have seen recipes for different milk/egg ratios and for crustless quiches, which are also similar to frittata and strata recipes. I have even added yogurt or sour cream. Experiment to find your favorite way to make this simple, versatile meal.
Steps:
First remove the pie crust and eggs from the refrigerator, letting them warm up before they are needed. Grate cheese or vegetables in advance, if you have time. If not, make sure it is prepped before you start to assemble. Prep time will depend on how well you multi-task.
Add the milk, 2-3 minced cloves of garlic and a few sprigs of thyme to a small saucepan. Heat it on medium low until just heated through then allow to simmer for 10 minutes then allow to cool. I just turn off the heat and let it sit on the stove until I'm ready for it. Sometimes I prepare the milk in advance and refrigerate it until I'm ready to assemble the quiches.

This process is not necessary but it infuses the milk with the garlic and thyme flavors which makes the whole quiche more delicious.

While the milk is infusing, I sauté the onions to a nonstick frying pan over a medium heat. Sometimes I use bacon grease here for a classic Quiche Lorraine flavor, but I wanted half of these to be vegetarian so I used butter this time. Don't let the onions brown, you want them to cook slowly so they will caramelize.

After they have been heated through, reduce the heat to low, add in the mushroom and season with salt and pepper. Cook over a low heat for 10 - 20 minutes and allow to cool slightly before using.

Unfold the refrigerated pie crusts and roll them out so that you can cut out more muffin tin crusts. Use a bit of flour to keep crust from sticking to the rolling pin. You should get 6 from each crust, after rolling out the leftover crust. I was able to get 30 muffin tin sized crusts from 3 individual crusts, and used the last to make a full sized quiche later in the week.

Butter the muffin tins before adding the crust. I found that it was helpful to stretch the crust out a bit with my hands before fitting it into the tin. I had no trouble removing them from my new nonstick muffin tin but they were stuck in the old one. Next time, I will probably experiment with crustless versions or maybe use cupcake liners or parchment paper.

Preheat oven to 350 degrees F and make sure the milk and onion mixture are both cooling.
Make sure all cheeses are grated or finely chopped and thoroughly mixed together, reserving the Parmesan for later. This is a great time to use up the last of a package of shredded cheese or any leftover ends. Freeze soft cheeses before grating. The more types of cheese, the deeper the flavor. My favorite quiches have often been the leftovers from the cheese tray after a party.

Chop spinach leaves into thin strips, about the same as shredded cheese. Mix this with the cheese blend. You can also add other shredded vegetables here, if you wish.
Add spinach-cheese mixture to each muffin tin, mounding cheese loosely. Top with cooled onion-mushroom mixture, chopped thyme and salt and pepper. I also topped half of them with a pinch of bacon.

Beat together eggs and the infused milk, which have had the garlic and thyme strained out. Be sure the milk is not too warm or it will start to cook the eggs. Fill each muffin tin with the egg mixture. Go slowly as it is easy to have the liquid spill out of the small containers. A measuring cup works best.

Top each with a pinch of Parmesan cheese and place in the oven for 45 minutes. If you are unsure that they are done, insert a knife to make sure the eggs are cooked through. They will puff up like muffins as they cook but will flatten out as they cool.
Serve warm, at room temperature or cooled. They would be good as a breakfast with fried potatoes and fruit, or at a brunch with salad and finger foods. I microwave the leftovers for about a minute or freeze them, although there weren't any left from this batch.
Add your voice! Click below to comment. ThriftyFun is powered by your wisdom!

melissa
Silver Post Medal for All Time! 293 Posts
September 29, 2014
1

found this helpful
These look so good! My mouth is watering just looking at your pictures on the computer.:) I am absolutely trying these. What a fabulous "quick" breakfast idea when re-heated. On my to-do list. Thanks for sharing!
Add your voice! Click below to comment. ThriftyFun is powered by your wisdom!