These take a couple of hours to cook the ingredients and assemble. They are just as good the next day. The ingredients below are a suggestion, everything is optional except for milk, cheese and eggs. However, if you follow the below recipe, they will be delicious!
Yields: 36 bite-sized quiches
Ingredients:
2 large shallots, thinly sliced (or very thinly sliced onion)
1/2 lb. bacon, cut into 1/4 inch thin strips (at least 4-5 slices)
fresh thyme (6-7 sprigs)
3 cloves garlic, finely minced (or use a garlic press)
1/2 pint half and half
4 eggs
2 cups shredded cheese (I used a mixture of Gruyere, Swiss and co-jack; mozzarella, cheddar or any shreddable cheese would work)
1/2 cup shredded Parmesan cheese
1 box refrigerator pie crusts (or make your own, about 2 crusts)
salt and pepper to taste
mini muffin tins
1 Tbsp. butter (for greasing tins)
Directions:
These first steps can be prepared a day or two before making quiches, if desired. If you are making the quiches now, remove the pie crust and eggs from the refrigerator at this time so it will be ready to use when necessary. Strip about 1 Tbsp. of thyme leaves off stems and set aside. Tie the rest of the thyme sprigs with kitchen string or tie them in cheesecloth.
In a small saucepan, heat half and half with thyme sprigs on medium heat until just simmering then turn to low for 10 - 15 minutes to infuse milk, stirring often.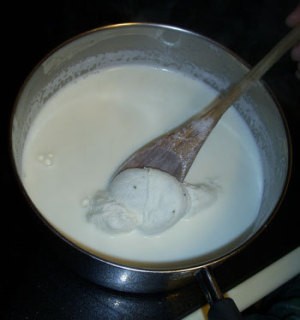 While milk is infusing, cook bacon in a small saute pan until cooked and slightly crispy (cook in batches if needed). Place cooked bacon on paper towels and drain bacon thoroughly. Reserve about 1 Tbsp. of bacon fat and saute shallots over medium low heat until softened, about 5 minutes. Set aside to cool. When milk is infused, remove thyme sprig and allow to cool, placing in refrigerator until needed.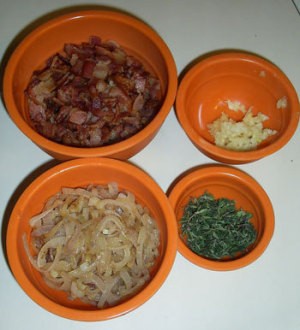 While milk is cooling, lightly butter your muffin tins to prevent sticking. Place pie crust on a flat surface, rolling out slightly to make it thinner. Cut out circles slightly larger than the muffin tin, try a couple of glasses from your cupboard until you get the right size. After you cut out the circles, you can pre-form the shape with your fingers slightly to better fit in the small area.
Don't worry if the dough pulls apart slightly, just smooth it back in shape. It is nice to have a lip that comes up slightly over the edge of the tin to hold the ingredients inside. If you have enough muffin tins to make all the quiches at once, go ahead and cut out all the circles. Otherwise wait until the muffin tin is ready. You will need to collect the dough scraps and re-roll the crust to make all 36, or you can buy an extra set of pie crusts so you don't have to fuss.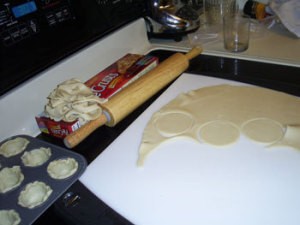 When the tins are prepared and the milk is no warmer than room temperature, crack the eggs into a mixing bowl and whisk together with the milk. Add salt and pepper to taste. Pour egg mixture into a measuring cup, about half full and set aside for now.
Preheat oven to 350 degrees F. Making sure your shredded cheese is well mixed (leave out the Parmesan), take a pinch of cheese and place into a small prep bowl (1/2 to 1 cup size). Add in a small amount of the thyme, bacon, shallots and garlic, trying to keep proportions equal so quiches will be consistent. Toss with cheese mixture and place in prepared dough. The mixture should be a little under the top of the tins and very loose.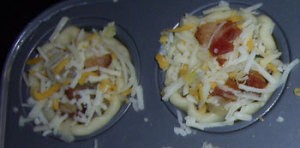 When a full tin is ready, slowly drizzle egg mixture into each until just at top of cheese mixture. If the egg is going onto the tin instead of in the cheese, slow down and pour a little on each quiche. When you go back to fill it, the egg will be channeled to where it needs to go. When this step is finished, place a small amount of Parmesan on the top of each quiche and bake for about 15 minutes.
The finished quiches should be brown and puffy with golden crust. If you find that they are a bit underdone, put them back in the oven for a few more minutes. Let cool a few minutes then remove from tins and allow to cool for at least 10 minutes before serving.
Once the prep work is done, two people can really whip these out quickly. These are the perfect size for a party because they are only a couple of bites (or one really big one). If you are making them for a brunch, you might want to use regular muffin tins instead. These will be much easier to make and be a better individual serving. The most important part of this recipe is the ratio of milk to egg (4 eggs to 1 cup of milk). If you run short, you can always mix up more using this ratio. Or just double the recipe to start and make a larger quiche with the leftovers. Post your experiences and variations here!
By Jess in Portland, OR