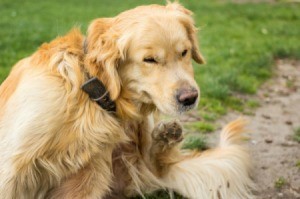 My three year old rat terrier has fleas. We have done everything we can think of, including going to the vet for medicine. Nothing has worked so far. Is there anything else that we can do?
By Mandi Lou from Wilmer, AL
Answers

April 7, 2010
0

found this helpful
Best Answer
There is a new product on the market called Comfortis. Our vet highly recommended it because it is a once a month pill that kills fleas with bacteria instead of insecticide. Dogs have a much better reaction to it than they do the other stuff. Give it a try!

Julia
Bronze Post Medal for All Time! 146 Posts
April 7, 2010
0

found this helpful
Best Answer
Please, please give that suffering little pup a good bath using the original blue Dawn dish washing liquid. It will kill the fleas on contact and will not hurt "Fido." (This goes for cats as well as dogs.)
You should repeat the shampoo again in 3 days, then follow up with a good dusting of food-grade diatomaceous earth, rubbing it into the fur really well and being careful not to have the dog breathe in the dust. Avoid the eyes as well. Then sprinkle it over "Fido's" food.
In over 50 years, we've never found anything better than diatomaceous earth for fleas, and for getting rid of them immediately, bathing them in the blue Dawn which does give the poor baby quick relief.
If your pet is indoor-outdoor, be sure to sprinkle the food-grade diatomaceous earth where the animal sleeps as well as places where they spend a lot of time.
Some people don't like to have their homes made dusty, but I'd much rather clean up dust than to watch another living creature suffer with things that bite them incessantly.
Hope this helps in a hurry.
Julia in Boca Raton, FL

Robyn Fed
Silver Post Medal for All Time! 398 Posts
April 7, 2010
0

found this helpful
Best Answer
My favorite things are a lice comb from the drug store, a bottle of peroxide, baby shampoo, and Dawn. I would, if you are able to, bathe the dog with Dawn first and then rinse. Then put baby shampoo in the palm of your hand, and pour a capful of peroxide into the glop of baby shampoo in your hand. Shampoo the dog and let it sit, then rinse two or three times, softly praising the dog the whole time.
I am going to try the SSS. I've never heard of that. I know the Frontline doesn't work on any of my dogs anymore, and it did work for a number of years. Don't use Frontline. I am also going to try using the comfortis pill.
Also, salt (regular table salt) kills fleas in carpets, and vacuuming is great too for killing eggs, and such. Make sure if you go the D. Earth route, you do not buy the pool kind at the store. You will have to look it up and order it online.
I always put salt under my sheets, on the carpet all over the house, sometimes I leave it for days. Nothing beats Dawn.
Remember, peroxide is poison so make sure the animals doesn't ingest it. Fleas are a pest! Good luck. I would bathe the dog a lot, and after the dog is dry, go over it with a flea comb, etc. Drop the comb in warm sudsy water to kill the fleas.
Note: Don't try the brewers yeast for fleas, as most dogs are allergic to yeast and will get ear infections.
Also, for all our dogs, I take a rag and wet it and go over them and massage their skin every so often. It is like a bath and gets the pollen, dust, etc off their coat. I spray their feet with the water too, it really feels good for them. If the dog has fleas, have it wormed at the vet, since the little buggers get swallowed while the pet is itching and it causes worms which cause the pet to be uncomfortable.
Go to earthclinic.com and check out the pets page for care and prevention.
Blessings,
Robyn

April 8, 2010
0

found this helpful
Best Answer
I agree with the food grade diatomaceous earth. You can find it in the home improvement stores like Home Depot. Again, just be sure to get the food grade, not the pool grade. I use it on my pets and in my yard.
Pat
Answer

this Question