My dog is training me, he is a picky eater. I started to make him his food, because he would not eat his regular kibble, which was good quality. Yesterday after heating his pre-made food, he smelled it and did not eat. I have come to the conclusion he is just really picky. I love him, but if he is going to be that picky, I will just feed him regular high quality dog food. How long can he go without eating? He is not sick, just picky. Any ideas of what to feed him. Lady at store suggested wellness dog food. I tried to give it to him and he put his nose in the air and walked away. Thank you for any help. Picture is of when he was a puppy, he is Chu/Terrior.
Lisa from Westland

Answers:
My Dog is a Picky Eater
Trust me he will eat. My boxer, Rascalbaby, tried that when I first brought him home. I give him Nutro Puppy. He eventually started to eat and found out he indeed likeed "mommy's food".
Good luck.
Melissa (05/01/2007)

By Melissa
My Dog is a Picky Eater
I pour just a tiny bit of either chicken broth or beef broth over her dry food and she loves it. (05/02/2007)

By Beverly
My Dog is a Picky Eater
When my Pomeranian got "picky" I opened a can of green beans and added them to the kibble. She looked as if she would eat the bowl, too. The vet told me about the canned green beans, so we knew it was a safe way to feed her. (05/02/2007)

By hsorbits
My Dog is a Picky Eater
My picky Yorkie loves roast and potatoes cut or chopped up good. She loves to see the crock pot. In the morning after she does her business she goes in the kitchen and sits on the floor and waits for me. Castor and Pollux has a great Organic canned dog food, organic turkey, brown rice, chicken, and veggies. (05/02/2007)
By Tracy
My Dog is a Picky Eater
I raw feed my dogs and they go wild for liver. You can saute it a little first. (05/03/2007)

By Min
My Dog is a Picky Eater
My yorkie, and jack russell, and newbie cockapoo love when I boil canned carrots, green beans, and one weenie cut up tiny pieces. I pour this over dry doogie food and it is a hit. My vet says the
green beans and carrots are great for them. The vet told me she knows a lady who buys rolled
turkey burger (on sale) bakes them with no added stuff and slices thin then freezes and uses those for
"treats". So doggie gets hi protein with less fat and better quality then treats loaded with junk.
I try not to feed them the store snacks and they love the faux ear treats. Good luck. Mine get Pedigree canned food and dry food too, in moderation. Puppy gets Pedigree puppy. (05/03/2007)
By meoowmom
My Dog is a Picky Eater
I have a 1 1/2 year Old Cockapoo, Lexii, who hates dry kibble. I started to mix her kibble with warm water and that worked for a short period of time. It is so time consuming just "watching" and making sure she eats her food when I have to be at work so early.

I also have a 14 year old cocker spaniel, Princess, who loves to eat, so I have to make sure she doesn't eat Lexii's food. I did some research and I tried, "Force" by The Honest Kitchen. The best food out there for dogs and cats. It is a bit expensive, but as long as my dog likes it, it's all that matters. Go to the website and take a look. If your dog is a picky eater and you no longer know what to do, you can buy a sample of force for like a dollar. Worth a try. (11/18/2007)
By Stephanie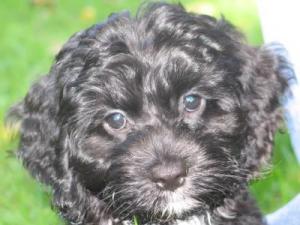 My Dog is a Picky Eater
My 3 yr old husky is also a picky eater, we tried mixing his dry kibble with Beneful and that worked for awhile. Then we started putting fresh salmon, that worked for awhile. Then i started making him a doggie tuna casserole, I found in a dog recipe book with milk, tuna, egg noddles, and peas in it. He loved it so much he licked the bowl until I had to stop him.
(09/05/2008)
By Valerie