I do not have to be frugal anymore, but I can't change! I did it when I had 4 children, now they are grown and it's only me and my dog.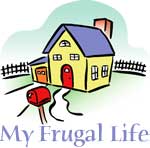 I do not use paper products, that is the biggest waste. I recycle my old white socks (washed in Clorox) as dish rags, to mop small areas, to clean up after my dog (and toss). I buy the cheap brand.
I keep old white towels (washed in Clorox) which become kitchen towels. I put them to work outside if they get too dingy. I use them to dry my dishes after they air dry on top.
I buffer all my soups with rice or noodles to make them last 3-4 days. I cook beans on Sunday, and then freeze half. The other half, I make into soup or refried for my tacos.
Isabel from South Texas