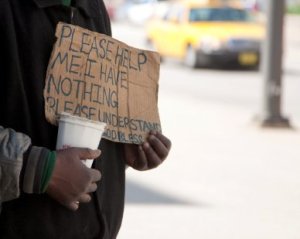 "Here I am, over here!" signaled the young man in a holey, paint spattered T-shirt and cutoffs. His arms waved a mile a minute, as he attempted to catch the attention of someone just pulling into Publix's parking lot. He certainly had my attention. I wondered at the evenly spaced paint spatters on his clothing and why he wasn't out where the motorists could see him better.
When I returned with the groceries about 45 minutes later, he was still there, still gesticulating. And in front of him was a car I hadn't noticed before. Its wide open windows and doors revealed a young woman in a neck brace. She was lying back against the reclined seat with her eyes closed.
"You've been out here a long time," I said.
"Yeah, we're waiting for the police. I called them over an hour ago. You'd think they'd be here by now."
"Why? What happened? I asked.
"We were driving south on US1 this morning, and a homeless guy came up at a light. He asked for money, but when I told him we didn't have any, he got mad. He pulled out a knife and waved it in my face, so I gave him what I had. But now we have nothing, and my girlfriend there just had surgery."
At that point, a couple of loud moans emanated from the car.
By then, I had finished loading my groceries, so I told them to just be patient. The police would be there soon enough, and I drove off.
Maybe you think I'm heartless, that I should've helped the young couple, but I know street cons when I see them. I'm sure you've encountered similar variations of this age old scam: "Could you spare me some change? I'm out of gas." or "My key broke off in the ignition" or "Somebody stole my wallet."
So what do we do about these people, other than just leave as I did?
Well, first you might want to find out whether or not they're legitimate. An easy way to tell is to offer the very help they ask for. For instance, if they say they need money for Metro Rail, offer to buy them a ticket. If they say they need money for gas, offer to get them some. If they say they're starving and need money for food, offer them a loaf of bread. They might take the ticket, the gas, or the bread, but most likely, they'll make up some lame excuse of why they'd prefer money instead.
The same day I saw the young couple at Publix, I passed a guy juggling an umbrella (against the sun) and a sign that said "STARVING. WILL WORK FOR FOOD. GOD BLESS." When I went back later with my boyfriend and offered the man $20 to do some odd jobs on my patio, he said, "No thanks, I want a real job."
Let's say you're faced with someone you think is a potential crook. What do you do? One of the best ways to get rid of him or her when something doesn't seem right is to take out a little PandS camera and start shooting. Had I done that with "my couple," I'm sure they would've scattered ASAP.
But what if you decide the person is indeed honest and you want to help? One suggestion requires a little advance planning on your part. Donate funds and resources to organizations that are in the business of helping the down and out and that have professionals who know how to do this. Then call that organization's hot line (or the police, for that matter) when the need arises, or direct the poor individual to that organization's address.
Something else you could do--and again this is ahead of time--is develop a list of shelters in the area (using the Yellow Pages) and distribute a copy of the list when necessary.
If you decide to give more direct help, make sure you do so in pairs (like I did with my boyfriend), for safety's sake.
Finally, buy McDonalds gift certificates (you can get them for a dollar) or collect little samples of soap or shampoo (or even recyclables) and have them handy to give out.
Whatever you do, don't worry about the person whose story you're not sure about. There are plenty of community resources and plenty of other people who will help out if you don't.
By Viaux from Miami, Florida
Comments

March 5, 2012
0

found this helpful
A few weeks ago we were leaving walmart and a older man was standing in the parking lot with a sign asking for help that he was hungry. Well I'm a single mom on a tight budget like the rest of the world, but we stopped and tried to give him a roll of ritz crackers and a few cans of sprite and a pack of tuna, he told us no thanks but he'd take any spare change we had.
Needless to say I didn't give him a thing!

Robyn Fed
Silver Post Medal for All Time! 398 Posts
March 6, 2012
0

found this helpful
It is so true that if they don't take actual help, but only money, they are running a scam. It has happened so many times over here.
It is sad that people do this kind of thing and then make it less likely that anyone would help someone who was actually in trouble.
I like your post, it brings up some very good points, including that of safety.
Blessings, Robyn

March 9, 2012
0

found this helpful
We encountered the same scam in Lexington, KY. We fell for it, then came across the same couple on the other on ramp but needed to get somewhere so didn't turn around and approach them. But we should have called the police!

March 9, 2012
0

found this helpful
My son-in-law is a policeman and he told me to never give these people anything. He said to call the police and let them know where they are.
Just tell the couple that you are going to call the police to see if they are on their way, since this couple said they already called them.