Natural Remedies Using Dandelion
Solutions
Share on ThriftyFunThis guide contains the following solutions. Have something to add? Please share your solution!
Did you know that dandelions are one of the most useful plants to reduce joint pain and aching muscles? Dandelions have anti-inflammatory properties that have been proven to relieve pain associated with arthritis, gout, sore muscles, and joint pain.

This dandelion infused oil can effectively relieve discomfort when massaged into skin. This is easy to make and half the ingredients are free!:)
Total Time: 45 minutes to an hour
Yield: 1 jar
Source: Pinterest inspired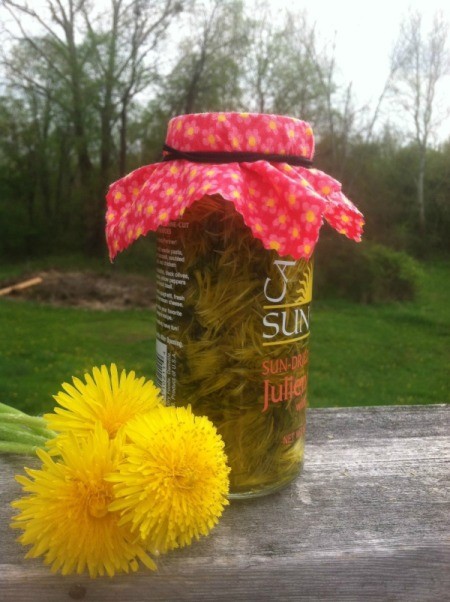 Supplies:
clean glass jar
dandelion blossoms to fill your jar
extra virgin olive oil
fabric
rubberband
Steps:
Go out into your yard and pick enough dandelions to fill your chosen jar.
To prepare them, blow on them and agitate the flower with your finger to remove any debris. If you try to rinse them in water, they close up, sealing any dirt or bugs inside. You will want to snip them with scissors just below the petals. A bit of the green part is completely fine, every part of this amazing plant is edible.
Fill your chosen jar with cleaned blossoms.
Pour in extra virgin olive oil just shy of the top.
Cut a small piece of fabric and secure this with a rubber band to the top.
Set in a sunny windowsill for 2 weeks to infuse thoroughly.
Now you will want to strain your flowers out of your oil. Please don't throw them away, they are still very nutritious! I will be putting mine in pasta, with fish, and even scrambled eggs.
As for your oil, pour it back into your jar and use a lid this time.:) Store in a cool, dry place. Or, you may store it in the fridge indefinitely.
Enjoy!
Dandelions are chock full of calcium, potassium, magnesium and iron; and vinegar is one of the best ways to extract these. Instead of mowing them down, pick some of these gorgeous blooms and make something tasty and useful.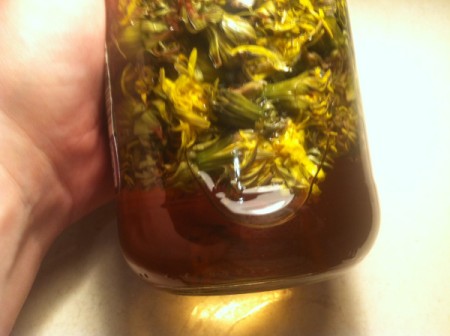 Total Time: About 1 hour
Yield: 1 large jar
Source: Pinterest inspired
Ingredients:
dandelions
apple cider vinegar
clean glass jar
Steps:
Go pick enough dandelions to fill your desired jar.
To clean, you actually will not want to rinse them. They just close up when they hit water. You will want to blow on them, and agitate the petals with your finger to remove any debris. This is pretty time consuming, but well worth the effort!
Using scissors, trim just below the petals. A bit of green is totally fine, it's all edible anyways.:)
Fill your desired jar with your flower heads. I chose to use an empty pickle jar.
Heat apple cider vinegar in a pan to just below boiling. The amount of vinegar completely depends on the size of the jar you are using.
Pour over your flowers and fill to the top.
When cool, cover the top with plastic wrap and then put the top on securely. This is to prevent the acidity of the vinegar from eating away at the lid.
Store in a cool, dark cabinet for about 6 weeks. Shake your mixture periodically.
Strain out your flowers, store separately in the fridge.
Store your vinegar in the pantry and enjoy all its wonderful uses!
Uses for this vinegar:
Take 2-3 teaspoonfuls, 3-5 times a day for for healthful detoxification. You may add it to juice or any other drink if you dislike it straight.

You can create a sweet/sour herbal syrup by mixing equal parts vinegar with honey. Uses for this are endless; icecream, oatmeal, tea, etc.

Add a splash of this to your homemade soups for a little zing and extra nutrition.

This can also help soothe insect bites/stings if applied. Dilute it with a bit of water first.

Add some to your bath water along with Epsom salt to soothe tired, achy muscles.

The pickled blooms themselves are even tasty and nutritious. Eat them alone, or add to pastas, soups, meat dishes, etc.
Related Content
Categories
Guides
More
Categories