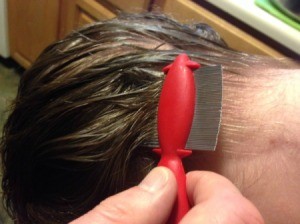 My husband and I discovered head lice in our teenagers' long hair. My youngest is 13 and has apparently not been doing a good job of washing or brushing his hair. His head was full of lice and nits. His older brother was better but not unscathed. It has been a few years since our last outbreak so I did some quick research online to make sure I was treating the infestation correctly. Here is what I discovered.
On a human head, lice can live for a full month, hatching wave after wave of new generations. Shampoo and conditioner can help to prevent an initial infestation but won't be enough to eliminate them alone. Lice have been shown to survive through two thorough shampooings or immersed under water for hours. The adult lice blend into hair very well as do the sticky tiny light colored oval shaped eggs (nits). They resemble dandruff but won't fall off the hair when brushed, only with a fine toothed comb. Removing these eggs before they hatch is key to controlling the outbreak.
There is a bewildering array of medications at the drugstore for treating lice. The medication we used (Rid) is made from chrysanthemum flowers and kills off the adults, leaving the nits to be removed with careful combing. Unfortunately, overuse of these medications has caused resistant strains of lice, so you may have to try a different formulation for your area.
The kit also came with a combing gel and a spray for our furniture. As far as I can tell, both of these other products are not very necessary or effective. Lice cannot survive long away from the human body, no more than 24 hours. The furniture spray appeared to be mostly alcohol. We used it on the fabric furniture after vacuuming the living room furniture entirely. A sheet or towel to cover the backrest would have been just as effective, as the boys could reinfect any of the surfaces. Keeping their heads from contacting the couch was our best remedy.
Other than personal items like a cuddle toy, most clothing and furniture should not need to be treated. We washed all our bedding and any hats or hoodies that had been recently worn. When our children were small, we would take a garbage bag and pack up any stuffed animals, pillows or other soft toys. We would tie them up and place them into the garage for two weeks, the suggested length of time to ensure no lice remained. They can also be killed by high heat (5 minutes at 130 degrees F) if the items can stand a hot dryer for that long.
We used up the combing agent quickly and it didn't seem to work any better than anything else. We still had nits after a couple of days. Many treatments use conditioner or mayonnaise as a combing agent, often after having it sit or even with a hot hair dryer. Curling or flat irons have been suggested to be effective at killing off the lice and nits as well. As far as I can tell, any of the combing agents are basically making it easier to get through the hair. There could be an added benefit of making the nits less sticky so they can be washed away.
The best preventative we have found is tea tree oil shampoo and conditioner. We get ours from Trader Joe's but you can buy a version from most brands or even make your own with a little bit of tea tree or cinnamon oil. I have them leave the conditioner on their hair for about 5 minutes before rinsing it out. They have also sat in the bathtub with conditioner and a lice comb but it is most effective to have another person comb it out.
We still found nits this morning, almost a week from when we discovered it. They are much reduced though, so I hope that we are on top of treating these pests. I used the flat iron on my oldest, in hopes it would kill off any eggs that I might have missed in the combing process.
I'd love to hear your own advice on how to treat lice naturally. Tell me in the feedback below.