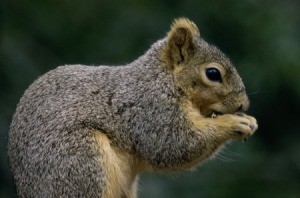 Squirrels are eating my tomatoes! I've tried every trick in the book, chicken wire to surround plants, doffee grounds, skunk plants, whirrley-birds, flags, streamers, fake snakes, fake owls, moth balls, Shake Away urine granules (and human, I was desperate), dog hair and human hair. I put grease and hot pepper on the fence and plants last year. The hot pepper on my plants killed the leaves and vines!
My dogs were indoor animals so I couldn't leave them outside all day. Tonight I tried another hot pepper receipt to spray (instead of shake) on tomatoes, but the spray bottle atomizer clogged up, so instead of wasting the mixture, I just shook it over parts of the plants and fence. Am I supposed to be using a commercial-type garden sprayer or just a kitchen-type sprayer?
A squirrel was even hanging upside-down eating sugar water out of my humming bird feeder. I don't want to kill them, but that was suggested and then hang the body by the tomatoes to ward off other squirrels.

Any more suggestions would be appreciated.
Hardiness Zone: 6b
By Doody from Dayton, OH
Answers

April 10, 2011
1

found this helpful
Best Answer
I mix cheap hot pepper sauce and vegetable oil 50/50 and spray areas where I do not want squirrels or other animals. I repeat weekly and after it rains. It works on bird feeders, spray everything except where the seed comes out.
Answer

this Question