Natural Mosquito Repellent Recipes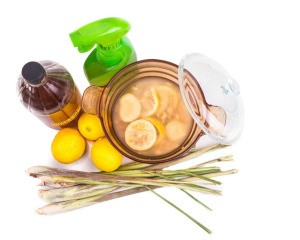 Rather than use chemical based commercial insect repellent products try making your own natural ones. This is a guide about
natural mosquito repellent recipes
.
Solutions
Share on ThriftyFunThis guide contains the following solutions. Have something to add? Please share your solution!
For insect repellent, essential oils such as clover, citronella, eucalyptus, peppermint, lavender, cedar and lemon grass repel bugs naturally. In a spray bottle, combine 1 1/2 tsp. essential oils per cup of vodka. Apply jojoba oil or almond oil to skin before spraying.
By fossil1955 from Cortez, CO
March 7, 2011
0

found this helpful
Top Comment
I certainly hope that this formula does repel mosquitoes because we have them so badly in our area that they make being outdoors miserable. We have two seasons where I live (SE New Brunswick): winter & mosquito. I guess if the mosquitoes aren't repelled I can ingest some of the vodka to alleviate my suffering and maybe get the little buggers so intoxicated that they go away to sleep it off!
May 26, 2013
0

found this helpful
Top Comment
THANK YOU! One thing I read recently is that soy vegetable oil is a natural effective repellent that works almost as efficiently on its own as the chemical sprays to repel mosquitoes. You can add the essential oils on top of this for super repellent. I don't use soy for eating, but keep a small bottle for this purpose. With concern that mosquitoes are carriers of some of the new tick borne illnesses, it's worth using a repellent.
Slice a lime in half and press many cloves all around and on the lime half. When you scatter these around where you are going to eat outside, then it will keep the mosquitoes away. This is also supposed to be useful when put near windows and doors in repelling most pests.
I found this on facebook when one of my friends posted it and put it on my page.
Archives
ThriftyFun is one of the longest running frugal living communities on the Internet. These are archives of older discussions.
March 5, 2011
0

found this helpful
I am looking for a natural repellent and or plant for mosquitoes.

Hardiness Zone: 8a

By Amanda from Ocean City, MD
Answers:
Natural Mosquito Repellent
from: http://gomestic.com/gardening/five-plants-that-repel-mosquitoes/

Citronella Grass: Citronella grass is, of course, where companies get the citronella oil. This oil is put in candles and lanterns that can be burned in your yard to repel mosquitoes. Citronella grass is actually a tropic plant that grows to be six feet tall, so it might not be practical in the average suburban backyard.

Catnip: Catnip is an herb that is most commonly used to stuff in toys or feed to cats for their enjoyment. However, the oil from this plant has actually been found to be more than ten times better at repelling mosquitoes than DEET. Planting this plant near your patio or deck will help repel mosquitoes.

Rosemary: This garden herb also has an oil that repels mosquitoes. While they are attractive plants that both repel mosquitoes and can add interest to your cooking, they are truly tropical plants that are not hardy in cold climates. You can, however, grow rosemary in a pot and take it inside in the winter.

Marigolds: Marigolds have a particular smell that many insects and humans find objectionable. They are a good plant for repelling mosquitoes as well as insects that can attack vegetable plants and aphids. Marigolds are annuals with bright flowers that range from lemon yellow to dark oranges and reds.

Mosquito Plants: There are actually plants on the market that are simply called Mosquito plants. They are advertised as a plant that repels mosquitoes. There are different schools of thoughts on these plants. Some say they do nothing to repel mosquitoes, while other swear by them. More often than not, you can only find them through mail order and internet sales.
(05/18/2010)

By yoder178
Natural Mosquito Repellent
I plant Marigolds around my house. These flowers keep the mosquitoes away because they don't like the smell of them. We used to live on the banks of the Erie Canal and never had a problem with mosquitoes after my friend told me to plant marigolds! (05/19/2010)
By sjackie2000
May 16, 2010
0

found this helpful
I have good natural homemade recipes for bites and stings. Can anyone help with a natural recipe for prevention of mosquito bites?

By H.Arnott from Manchester, UK

Answers:
Natural Mosquito Repellent
I've used just about every home remedy suggested, and have not found one of them that works. Specifically I have tried Avon Skin-So-Soft, Bounce dryer sheets, olive oil, vanilla extract, Vicks VapoRub, amber Listerine, and a host of others that I can't remember at this time. They work for others, but not for me for some reason; I don't know if it's because of my blood type, or any other reason. The only thing that I have found to work for me is Deep-Woods Off!, which I don't like to use because if I use it more than once or twice, I break out in hives; and a product made by Avon, a combination of sunscreen and mosquito repellent all in one.
One of the home remedies mentioned might work for you, just give them a try one by one, and see what happens. What works for some, doesn't necessarily work for others for some reason. Good luck to you. (08/20/2009)

Natural Mosquito Repellent
Chamomile tea. I make it strong and put it in a spray bottle. I can even spray face and ears. It works for me. I've seen mosquitoes come within a centimeter of my skin and turn around and leave. (08/20/2009)

By Cantate
August 17, 2009
0

found this helpful
I need a natural mosquito repellent recipe.

Lynne from Odessa, TX
Answers:
Natural Mosquito Repellent
I have heard by my neighbor that olive oil on the skin is supposed to be a natural repellent. I have not tried it. She swears by it. (08/24/2006)

By Gardenho
Natural Mosquito Repellent
Vanilla extract artificial or real. I use it, and I am always the first to be attacked (and have large welts as a result) if I forget to put it on. Just dab on your pulse points, plus it smells great on anyone. If it will stop them in Alaska, it will stop them anywhere.

I still don't know of one for the yard, but I have heard citronella plants, and catnip are great for deterring mosquitoes. (08/24/2006)

By camo_angels
Natural Mosquito Repellent
The best mosquito repellent available according to studies in lemongrass oil which when applied stopped mosquito bites for 198 minutes. Followed my eucalyptus radiata at 89 minutes. These outdid all major brands tested. Lemongrass actually contains way more citronellol than citronella. I also use this on my pets. To make a great spray mix 20 drops essential oil in a 2/3 water 1/3 alcohol solution, shake, and spray as needed. (08/24/2006)

By Dr Beth
Natural Mosquito Repellent
Avon Skin So soft works great. Especially here in Maine. You can get it now in a "spray" bottle. (08/26/2006)

By Judy
Natural Mosquito Repellent
I have heard that hanging a fabric softener sheet from your beltloop or anywhere on yourself repels mosquitoes. (08/26/2006)

By Tara
Natural Mosquito Repellent
I use garlic pills, one a day works great no odor to you, but mosquitoes hate it. (09/12/2006)

By Mary
Natural Mosquito Repellent
Putting a fabric softener sheet in your pocket does no good. You have to rub it onto your exposed skin. it works for short intervals only. (05/21/2008)

By mailei
Natural Mosquito Repellent
I use original Listerine (the amber coloured liquid) on myself and my family whenever we are out and so far no bites at all. It cost me about $3.00 for a bottle of the generic brand and I put it into some smaller squirt bottles. Just spray on your exposed skin and they stay completely away. (07/02/2008)

By Curvaliscious
Related Content