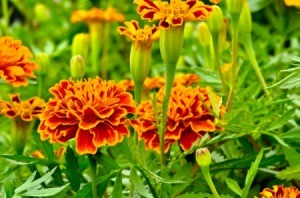 Question:
I have been hearing that marigolds help with mosquitoes, but I have also seen at least three different kinds of them. Can you please let me know which kind you use? They are eating my little 3 year old up. I will try anything to get rid of them. Thanks, hope to hear from you soon.
Michelle
Answer:
Michelle,
At least in my part of the world, this seems to be a particularly bad summer for mosquitoes. Lots of different flowers and herbs are said to repel mosquitoes. Try planting some of the following:
Mexican marigold
lantana
lemon grass
catnip
rosemary
American basil
horse mint
ageratum
eucalyptus
chrysanthemum
American beautyberry
In regards to marigolds, it has been said that mosquitoes (and other insects) are repelled by their strong smell. To that end, my advice would be to find the smelliest marigolds you can get your hands on!
Here are some other tips for keeping bites to a minimum:
Wear light-colored clothing. Light colors will keep you and your little one cooler thereby making you less attractive to mosquitoes. Wear long sleeves and pants when practical.
Keep your yard mowed and trimmed. Remove brush piles and use a weed whacker to keep grass and tall weeds from growing up around the house.
Avoid being outside during dawn and dusk. This is when mosquitoes are the most active.
Eliminate standing or stagnant water where mosquitoes may breed. Change the water in your birdbath every few days and empty your watering can after each use.
Ellen
Comments
Read More Comments
I am looking for plants that are good at repelling mosquitos in the tropics.
Answers
By Cathy (Guest Post)
April 2, 2007
0

found this helpful
Best Answer
Try citronella, which is a type of geranium. This is what they use in mosquito-repelling oils and lamps. The best thing is prevention, find out where they are breeding and get rid of the water!
April 3, 2007
0

found this helpful
Best Answer
Marigolds! Save the seeds and replant next year, also... they'll come up in mixed vibrant colors of the sunset, which you can enjoy without being bitten by mosquitos. We plant in a long planter just in front of the porch. Not a fragrant flower, but beautiful and a good mosquito repellant, for sure.
PS: I'm in the Northern part of the country... I just re-read your message about Tropics, which I'm clueless about. Maybe something else would work better in your climate. Marigolds are hardy and can withstand lower temperatures right into the fall here. Sorry, but I'm sure someone can give you better advice for where you live unless the Marigolds grow well there, too.
By (Guest Post)
June 2, 2008
0

found this helpful
Best Answer
I know this is going to sound weird, but it works! One day sitting on the patio at one of my favorite El Salvadoran restaurants, I noticed gallon size baggies of what appeared to be water hanging in the trees. I asked the waiter what they were there for and he said they kept the mosquitoes away.
He did not know how, but he said that was what they did at home (in El Salvador). Sure enough, I, whom my family refers to as their mosquito repellent, did not have a single bite! I hung bags in my back yard and had my first (nearly) bite free summer!
Answer

this Question

...
I have seen a lot of tips on catnip as a mosquito repellent, but, if I plant catnip somewhere in my yard, won't I have all the cats in the neighborhood pokin' around in it?

I really don't want cats in my yard!

Thanks,
Patty
Answers
By Queen Rosie (Guest Post)
July 20, 2005
0

found this helpful
Best Answer
I planted catnip for my cats, and all the cats in the neighborhood rolled around in it so much they almost killed the plant. So I had to put it in a hanging basket way out of reach. Now the cats don't notice it unless we pick a leaf for them to eat. That's solved the problem.
But, I haven't noticed any reduction in mosquitoes, either! What are you supposed to do with the catnip to make it a mosquito repellent?
By Lisa (Guest Post)
August 15, 2005
0

found this helpful
Best Answer
I found this quote about catnip as an insect repellent, it talks about the active chemical in catmint-
'Nepetalactone is one of the major components (~ 40%) of the essential oils from Catnip, Nepeta cataria (photo above), a member of the mint family Labiatae. Other compounds found in the oils are common plant compounds like citral, geraniol, citronellol, nerol and limonene. When they inhale it, many (but not all) cats show a response lasting for a few minutes; symptoms include a head-over roll, body rubbing and kicking. Eating it has no effect, the vapour of the nepetalactone has to reach a receptor above the palate in the vomeronasal organ. The behaviour is believed to be an inherited characteristic related to an autosomal dominant gene. Nepetalactone has also been shown to be an active repellent for cockroaches, and recent tests on yellow fever mosquitoes showed that it was a more effective repellent than DEET (N,N diethyl-m-toluamide), the most popular synthetic insect repellent.'
By Hebe (Guest Post)
November 1, 2005
0

found this helpful
Best Answer
If you put a sturdy cage around your catnip patch, the plants can grow strong & not be broken or trampled down. You can harvest plenty of catnip yet the neighour cats can still enjoy it. If anyone is handy, this isn't too hard to make, Or get a neighbour to make it for you since their cats use your catnip! I wish I could show a diagram but I hope this gives you the right idea.
Use some sturdy wire racks from on old fridge or from old stove ovens & tie together with metal wires so the finished cage will fit over your catnip patch & is 1-2 feet high from the ground. It will have 5 sides to it with the open end over the patch at ground level. The plants can grow through the wires & the cats can still roll on top the cage but not damaged the plants. If one is specially handy, you can build one with 2x2 inch boards & tack fencing wire over the frame. You need to anchor down the cage on the corners into the ground or the cats could tip it over in their eagerness to get at it.
Answer

this Question

...