Question:
I have been hearing that marigolds help with mosquitoes, but I have also seen at least three different kinds of them. Can you please let me know which kind you use? They are eating my little 3 year old up. I will try anything to get rid of them. Thanks, hope to hear from you soon.
Michelle
Answer:
Michelle,
At least in my part of the world, this seems to be a particularly bad summer for mosquitoes. Lots of different flowers and herbs are said to repel mosquitoes. Try planting some of the following:
Mexican marigold
lantana
lemon grass
catnip
rosemary
American basil
horse mint
ageratum
eucalyptus
chrysanthemum
American beautyberry
In regards to marigolds, it has been said that mosquitoes (and other insects) are repelled by their strong smell. To that end, my advice would be to find the smelliest marigolds you can get your hands on!
Here are some other tips for keeping bites to a minimum:
Wear light-colored clothing. Light colors will keep you and your little one cooler thereby making you less attractive to mosquitoes. Wear long sleeves and pants when practical.
Keep your yard mowed and trimmed. Remove brush piles and use a weed whacker to keep grass and tall weeds from growing up around the house.
Avoid being outside during dawn and dusk. This is when mosquitoes are the most active.
Eliminate standing or stagnant water where mosquitoes may breed. Change the water in your birdbath every few days and empty your watering can after each use.
Ellen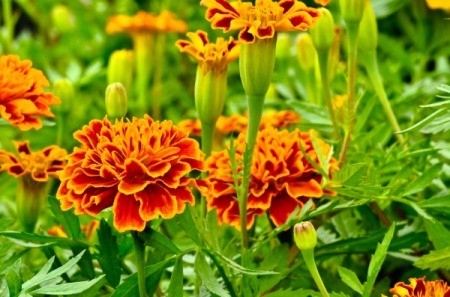 About The Author: Ellen Brown is an environmental writer and photographer and the owner of Sustainable Media, an environmental media company that specializes in helping businesses and organizations promote eco-friendly products and services. Contact her on the web at http://www.sustainable-media.com
Add your voice! Click below to comment. ThriftyFun is powered by your wisdom!
Add your voice! Click below to comment. ThriftyFun is powered by your wisdom!