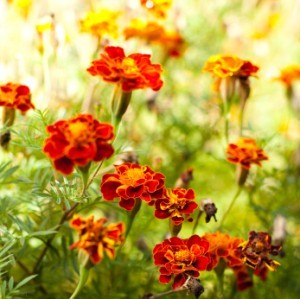 Some garden experts feel that we rely too much on marigolds to fill in our summer beds and borders. I disagree. If anything, these summer staples are often under appreciated. Marigolds couldn't be any easier to grow, and their cheerful flowers offer a summer-long burst of color anywhere you plant them.
Plants At-A-Glance
Origins: Mexico, Central and South America.
Life cycle: Half-hardy annual.
Site: Full sun to partial shade (better in sun).
Soil: Average, well-drained soil.
Height: Dwarf, 6 to 12 inches; large, 18 to 36 inches tall.
Foliage: Dark green leaves are thin and lacy; pungent when crushed.
Flowers: Yellow, maroon, orange, creamy white, or bi-colored; flowering from June-October.
Watering: Plants are drought tolerant, but perform better with regular watering.
Propagation: Sow seed indoors in mid-spring or outdoors after danger of frost has passed.
Garden uses: Container planting, cut-flower garden edging, mass planting, mixed borders, rock garden.
Four Common Varieties
African marigolds (T. erecta): This is the largest variety, growing 1 1/2 to 3 feet tall with tight double pompom blooms (white, gold, or orange) that are 4 to 5 inches wide. Compact cultivars stay under 18 inches. These are the strongest smelling of all marigolds, but the odor is only emitted if you crush the leaves or stick your nose in the flower.
French marigolds (T. patula): Mid-size plants grow 6 to 18 inches tall and have 1 to 2 inch wide more open flowers (single, semi-double, or double). The flowers are often bi-colored.
Triploid marigolds (T. erecta x patula): These hybrids are a cross between French and African marigolds and grow to a height of 12 inches tall. Because they are sterile, none of their energy goes into seed production which results in vigorous 2 to 3 inch wide flowers. Triploids will keep blooming even in hot weather.
Signet marigolds (T. tenuifolia): Plants form mounds of flowers, 9 to 12 inches tall, with lacy foliage and masses of 3/4 to 1 inch ray-like flowers. The blooms are edible.
Using Marigolds in the Garden
Marigolds offer months of easy-care color and combine well with other annuals and perennials in the flower garden. Compact signet marigolds and the mid-sized French types are well-suited to edgings, walkways, and mixed containers. The taller African marigolds are best for back borders and cutting gardens.
Marigolds also make good neighbors in the vegetable garden. Many long-time gardeners claim the roots of marigolds discourage nematodes when planted near tomatoes, potatoes, asparagus, strawberries, and roses. Their flower petals are rumored to repel the Mexican bean beetle when planted around bean plants. While there is no concrete scientific evidence to back up these claims, marigolds are still worthy of some planting space. They attract hover flies, which attack aphids, and their bright and cheerful appearance is sure to make any garden a more pleasant place.
Growing Tips
Start seeds indoors 4 to 6 weeks before you want to set plants in the garden. Marigolds grow quickly, so don't start them any sooner or the seedlings may become leggy.
To sow seeds directly outdoors, wait until the soil has warmed to between 65-70 degrees F. Sow in shallow trenches or scatter them over a broad area and cover with 1/2 inch of soil. Keep the seeds moist until they germinate (7 to 14 days).
If you don't want to start your own plants from seed, packs of inexpensive transplants are readily available at garden centers and discount stores in the spring. Just be sure to wash your hands after transplanting them. Marigolds contain pungent oils that can cause skin irritations in some people.
Pinch plants back when blooms first start to appear. This will encourage branching and more flower buds. Deadheading spent blooms will keep flower production going well into fall.
Marigolds like warm weather, but they sometimes take a break from flowering during the hottest part of the summer. Don't worry - they'll start flowering again when cooler weather arrives. Once plants are blooming again, just deadhead spent flowers to keep new buds coming.
Due to their height, African marigold stems have a tendency to snap off under the weight of their huge flowers. One way to help prevent this is to strip the leaves from the bottom 2 to 3 inches of the stem and plant them more deeply than in their original cell packs. The lower parts of the stem can then root and provide extra support.
Marigold foliage rots quickly in water. When cutting flowers for an arrangement, be sure to remove all of the leaves from the stems that will fall below the water line.
Marigolds are generally resistant to pests and disease. However, leaf spot, gray mold, and powdery mildew may become a problem under humid conditions.