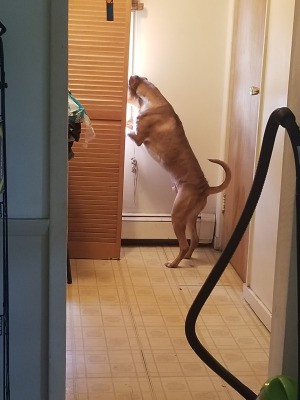 I saw that my dog was sick on the 9th and called vet on the 10th when he wasn't eating at all. I got him in there on the 11th, he wasn't eating and seemed very sick and out of it. They did a fecal check he had a typical fecal parasite. They me gave antibiotics and something for his stomach, but the vet missed the fact he had parvo.
Then on the 12th he pooped a "bloody nightmare" so I rushed him to an ER vet and they said he had parvo and low blood pressure and that if I wanted him to live I would have to leave him there. (This is not word for word, but it is what they said to me.) Leaving him there was high/low estimate $9,000 high $4,000 low, way out of my price range! So they sent us home with IV bags and some more meds and a few cans of wet food.
He started drinking water almost right away, but no food! He stayed alert and is alert and moving around barking at the door and stuff like that. The vets where not as helpful as I would have liked. I called a few times and they just said to bring him back in each time, with a little advice on what I could do at home to help him. So I dug around on the internet and found that using a dropper to force feed teaspoons of Pedialyte and baby food (after the vomiting stops do baby food) can help. Also there were recommendations to rub corn syrup on their gums to help keep sugar levels up. Vitamin B complex helps as well. I only used a little as well as some Pepto and an acid reducer.
Now he seems as if his gotten over the worst of the parvovirus no more vomiting, no more bloody poop, and he wants to run around more like himself even. And best of all his taken food on his own! I gave him rice and chicken, not a lot, just a few nice spoonfuls and a dog treat after days and days, today being the 19th, so about 10 days without eating on his own. Now he still has watery poop, brown watery poop that he is having trouble holding in it's so watery. It's not incontinence I don't think cause his very aware of it and doesn't like the little drops when they happen.
So what do I do now? Yes, I believe he made it past parvo, but he didn't eat for 8 days and the last 2 days he had 90% of a jar of baby food, sweet potatoes. There is a list of other issues that can pop up even after surviving the parvovirus? I'm scared.