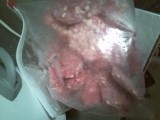 This is a popular food around our home. I like to make lots of these and keep them in the freezer. Even the kids like them after they became used to how they look.
I make hamburger patties out of raw hamburger meat then mix with oatmeal. Just cover the top of the meat with oatmeal, I don't use a lot I then mix it by hand until it is all together. This makes the meat go further, and also adds to the texture and taste.
When it is mixed, I make little palm size patties out of them and
I put them on top of a plastic storage bag. This storage bag sits on an aluminum pizza pan, but you could use anyting that makes a flat surface for them to be stacked on.
I stack the raw patties onto this bag, not touching very closely. Sometimes I will flatten them a little if I didn't do that before. Then I put another storage bag on top of those and put on the next layer of patties.
I continue to do the same thing by putting another storage bag over those patties and then put some more until I have used all the hamburger mixture up.

Finally, I top the last layer of the patties with a storage bag. Then I will put these in the freezer, sometime I will slip this into a grocery plastic bag and put it to freeze that way. I always use the same storage bags. When I take them off the storage bag to put them in another bag, I put those bags back into the freezer until I am ready to stack patties on them again.
When they are frozen, I take them out and put them into a storage bag. They don't stick together when they are frozen. Sometimes a couple of them do and I just bang the back on the side of the counter to get them unstuck.
When it is time to cook them, it is one minute and 40 seconds on high for one and for three it is three minutes. Don't cook more than three at a time.
When I take them out, I will pour off the grease into a container I have on the counter. When this container gets full of grease, I will throw the solid grease out.
It seems to have less grease when cooked in the microwave but I don't know why. As always, I check the patties when I am first cooking them, by cutting them in half. I like mine well done. I am so used to what they look like when they are done the way I like them I don't have to check for doneness any more. These are easy snacks for the kids to make and eat on a moments notice.
We love these on a slice of bread folded over to make a sandwich. One slice of bread makes room for two of these sliders. They get even smaller after you cook them in the microwave. The oatmeal, however, makes them very filling. You would be surprised.
We just love these and I wanted to share with you how we make dozens and dozens of microwavable hamburger patties like the ones you buy at the store, but they are made by my hand so I know what goes into these. I love to look in the freezer and see dozens of these ready to eat! We really love our hamburger slider patties.