My kids always loved oatmeal raisin cookies the best. Especially if they were soft and chewy. This recipe is the same as I always used except for one "surprise" ingredient.
Total Time: Prep Time 20 minutes; Cooking time 30 minutes
Yield: 3 dozen cookies
Source: Homemade recipe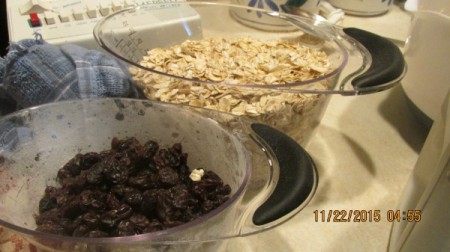 Ingredients:
2 cups all purpose flour
1 tsp baking powder
1/4 tsp baking soda
1/4 tsp salt
1/2 tsp cinnamon
1/4 tsp nutmeg
1/2 cup (1 stick) softened butter
1/2 cup chunky apples*
1 cup very tightly packed brown sugar
1 egg, plus 1 yolk
1 1/2 cup rolled oats or quick oats
1 cup raisins (opt.)
*I peel, core and chop 4 medium apples, cook in about 1" of water until the apples start to soften, remove from heat, let cool, stir to break down a bit. You want the apples chunky.
Steps:
Preheat oven 375 degrees F.
2. In a small bowl mix flour, baking powder, baking soda salt, cinnamon & nutmeg. Whisk together and set aside.
In a medium bowl cream butter by hand or mixer and brown sugar together. Add chunky apples (make sure they are cooled) and mix well. Add egg & yolk and stir to combine.
Add all dry ingredients to medium bowl and stir. Add oats and raisins and stir to combine smoothly.
5. Using a cookie scoop, place cookie dough on a greased cookie sheet 2" apart.
6. Bake for roughly 9 minutes until the edges start to turn golden brown.
7. Let sit for 30 seconds and lift with a spatula onto a platter.
February 19, 2009
1

found this helpful
Mash bananas and beat with a fork until pureed. Add applesauce, egg whites and vanilla. Stir in soda, salt, cinnamon, nutmeg, flour and oatmeal. Mix well. Add raisins and mix. Drop tablespoons of batter onto cookie sheet and flatten with a fork.
Read More...
Does anyone have an easy recipe for oatmeal raisin cookies WITHOUT nuts? Nuts are expensive and I rarely have them on hand. I want a recipe I can just whip up in a hurry. Thanks!
Starchild in VT
Answers
May 11, 2007
0

found this helpful
1 1/2 cups all-purpose flour
1/2 teaspoon salt
1/2 teaspoon baking powder
1/2 teaspoon freshly grated nutmeg
(2 sticks) unsalted butter, softened
1 cup light brown sugar, packed
1 cup granulated sugar
2 large eggs
1 teaspoon vanilla
3 cups rolled oats
11/2 cups raisins
Pre-heat oven to 350 degrees. Line two large cookie sheets with parchment paper or waxed paper.
2 Either by hand or with electric mixer, beat butter until creamy. Add sugars; beat until fluffy, about 3 minutes. Beat in eggs one at a time. Add vanilla.
3 Mix flour, salt, baking powder, and nutmeg together in medium bowl. Stir dry ingredients into butter-sugar mixture. Stir in oats and raisins
roll dough into 2-inch balls. Place balls on parchment-lined cookie sheet, leaving at least 2 inches between each ball.
5 Bake until cookie edges turn golden brown, 22 to 25 minutes. Let cool on cooling at least 30 minutes before peeling cookie from parchment.
By susanw (Guest Post)
May 11, 2007
0

found this helpful
I would recommend finding a recipe you like and just omitting the nuts. Just because they are in a recipe doesn't mean you have to use them.
May 11, 2007
0

found this helpful
The posted recipe sounds yummy. But if you already have a favorite recipe that includes nuts, you don't have to put them in.
The recipe will still be good.
May 11, 2007
0

found this helpful
Here's an idea for even quicker cookie whip-ups, although they do not have raisins in the mix, you could add them to taste when making up the cookies.
OATMEAL COOKIE MIX
5 c. flour
5 c. rolled oats
3 c. sugar
4 tsp baking soda
2 tsp baking powder
2 tsp salt
Mix together ingredients until well blended. Store in tightly covered container at room temperature. Stir thoroughly before measuring for recipe below. MAKES: 13 CUPS MIX
OATMEAL COOKIES FROM THE ABOVE MIX
4-1/2 c. OATMEAL COOKIE MIX
1/2 c. milk
1 tsp vinegar
1 egg, lightly beaten
2/3 c. veggie oil
Stir OATMEAL COOKIE MIX before measuring. Sour the milk by adding the vinegar to it. Combine sour milk, egg and oil; stir into MIX, blending well. Drop by spoonfuls onto greased cookie sheets. Bake at 350*F for 10-12 minutes or until cookie edges begin to brown. Let cool on racks. MAKES: 60 COOKIES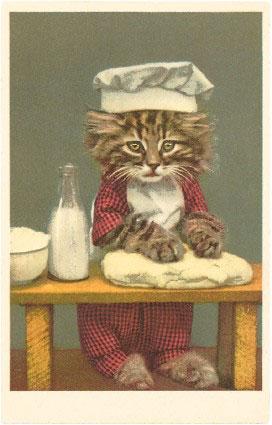 By Mary Ann (Guest Post)
May 11, 2007
0

found this helpful
I use the recipe from the Oatmeal container.
Luv um!
May 11, 2007
0

found this helpful
ANY oatmeal cookie recipe should work w/o nuts.
Nuts are almost always optional.
My granddaughter does not like any kind of nuts
so I just leave them out of all the recipes I make for her.
By Ruth Valley Gal (Guest Post)
May 12, 2007
0

found this helpful
The easiest recipe is to buy a yellow or white cake mix, add the eggs and oil as directed, fold in a cup of raisins and a cup of oatmeal. This method works for anything you might want to add. Try a chocolate mix and add Chocolate chips. Bake as directed on package. Add some extra vanillla or almond for more flavor.
By chip off the old block (Guest Post)
May 12, 2007
0

found this helpful
just leave the nuts out.
May 12, 2007
0

found this helpful
You should go to foodnetwork.com and type in that as a recipe topic.
Answer

this Question

...