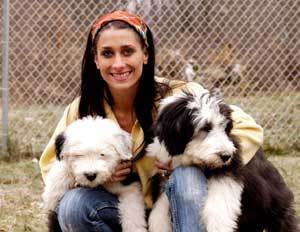 Breed Description:
Also called the Bobtail, Old English Sheepdogs are strong, compact, muscular dogs with an immensely shaggy coat that covers their entire body. Originally developed from drover's dogs, this breed has a loud, distinctive sounding bark, which he uses to announce any occurrences he deems peculiar. This breed is known for being good with children, is faithful and easily trained, but needs plenty of room for exercise.
Group: Herding Group
Purpose of Breed: Herding Sheep
Country of Origin: England
Average Size: Range from 20-24 inches and 60 to 100 pounds depending on sex.
Color(s): Gray, grizzle, blue, blue merle with or without white markings.
Coat Type: A thick, shaggy , hard-textured coat with an undercoat of water-proof pile.
Grooming: The Old English Sheepdog's profuse shaggy coat needs a minimum of 3-4 hours a week of grooming. Their coats are often sheared in the summer months to prevent them from overheating. This breed is a heavy shedder-especially from April to May. This breed requires standard care for ears, pads and nails. Eyes should be examined regularly for problems.
Exercise Needs: Old English Sheepdogs love to play and run and require at least a medium-sized yard fenced yard to stay safe. They love to take long walks with their owners and games featuring fetch.
Temperament: This breed is affectionate and playful, preferring to spend time with his "flock." Old English Sheep Dogs can be a bit possessive and territorial, but they are not aggressive, merely protective. This breed makes an intelligent, loving pet that is even- tempered, although at times a bit stubborn, and easy to train.
Common Ailments: Prone to hip dysplasia and cataracts.
Life Expectancy: Averages 10-12 years.
Trivia: Old English Sheepdogs have a gait similar to the shuffle of a bear.
More Information: The Old English Sheepdog of America, Inc.