Crabgrass can be relentless. Because it grows fast and tends to thrive in hostile conditions, it can quickly turn your lawn into a tangled patch of weeds, if not kept under control. Here are a couple of organic solutions for fighting crabgrass that are easy, safe, and effective.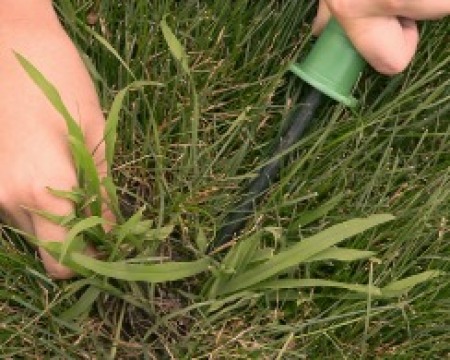 The Facts on Crabgrass
Different species of crabgrass are found throughout the United States and southern Canada. These annual weeds bloom on terminal spikes from July through September and can grow from 15 inches to 3 feet tall. Crabgrass stems grow upright or form a dense mat on the ground. The leaves are either hairy or smooth (depending on the species); a 1/4 inch wide, and have an elongated shape.
Next to turf grass, crabgrass looks light bluish green in color. Problems usually start along driveways and walkways, where heat and poor soil discourages turf grass from growing. Because crabgrass reproduces both by seed and from rooted-stems on top of the soil, it doesn't take long for crabgrass to quickly overwhelm your lawn.
Preventing Germination
The most effective way to treat crabgrass is to prevent it from germinating in the first place. A great organic "weed and feed" product that works as a pre-emergent herbicide on crabgrass is corn gluten meal (CGM). CGM is a natural by-product of commercial corn milling that contains corn protein. This protein acts like an herbicide by creating a chemical barrier at the soil's surface that prevents weeds from sprouting.
In addition to working on crabgrass seeds, research has shown that CGM is also effective at controlling the seeds of chickweed and dandelions. CGM is completely safe and poses no health risks to people or animals. In fact, because it is 60% protein, it is often used in livestock feed and pet foods. As an added bonus, CMG is also 10% nitrogen by weight, which is your lawn's favorite kind of fertilizer.
Where to buy it: CGM is available in both powdered and pelleted forms. Look for it at farm and feed stores, county co-ops, and places that sell garden supplies.
How and when to apply it: Timing is critical to the success of using CGM, because it doesn't work once seedlings emerge. Apply a first round in late April or early May (when surface soil temperatures reach about 55 degrees F), and a second application around mid-August. Spread the product evenly across your lawn at a rate of approximately 20 pounds per 1,000 square feet.
Water it in lightly in order to activate it.
You can expect CGM to remain effective for 5 to 6 weeks each time you apply it. Although CGM will start working right away, don't expect to see immediate results. It takes about 4 years of annual applications to achieve complete results.
Note:
CGM also acts like a pre-emergent on grass seed, so don't use it on lawns you plan to seed.
Pulling Young Plants
Pulling young plants out of the ground while in an early stage of development is a surprisingly effective means of control. Simply pull the plants up (stem, roots and all) before it has a chance to set seed.
What to look for: If you spot crabgrass seedlings with two or three leaves, or mature plants with a slender, green seed head that is still tightly closed against the leaves, go ahead and pull it up. If the seed head appears splayed open, however, leave it alone. Otherwise, you'll just scatter thousands of tiny crabgrass seeds all over the lawn. It's better to wait until spring and treat the affected area with a pre-emergent like CGM.
When to do it: Pull out crabgrass as soon as you spot it. Young plants leave only a small hole in your turf, which will quickly fill in with grass.
Defense by Way of a Healthy Lawn
In reality, the most effective way to control crabgrass is to let your lawn do it for you. A thick, healthy lawn easily crowds out weeds, and creates a dense enough cover to prevent weed seeds from sprouting.
Use a lawn fertilizer with at least half of its nitrogen in a slow-release form. For a 1,000 square-foot lawn, use less than 3 pounds of nitrogen annually. If you're using a "weed and feed" like CGM to treat crabgrass, no additional fertilizer applications are necessary.
Always set your mower to at least one inch higher than the settings recommended for the type of grass you're growing. Mowing grass too short stresses turf grass, and leaves your lawn vulnerable to crabgrass and other weeds. Always keep the lawn mower blades sharp so they cut the grass cleanly. Leave grass clippings on the lawn to act as a natural fertilizer.
Weeds tend to pioneer areas where the soil has become too compacted for grass roots to breathe. If your yard consists of heavy, clay soils or is prone to compaction, remove thatch each fall and core-aerate your soil at least once per year.
Fall is the ideal time to reseed patchy or damaged areas of your lawn. The days are warm, the nights are cool, and there's plenty of morning dew on the ground to help keep seeds moist until they germinate.
A thorough watering once a week (maybe twice in sandy soil) encourages grass roots to grow deep, and leaves your lawn less vulnerable to drought.