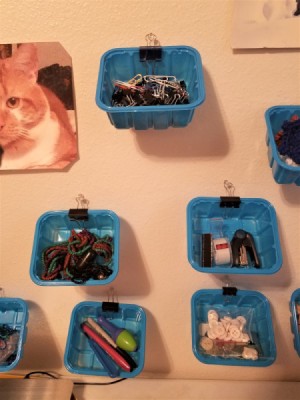 I love mushrooms. But almost the best thing about them are how versatile their containers are. Durable and cute, they make a chaotic kitchen, office, or craft room much better.
I used them tonight for putting some things I have on limited counter/work table space, up off the surfaces. All you need is the tubs, binder clips, and pushpins.
Put the pins where you want, hang the clip on the tub, putting the front tab down if you want. Then simply hang and fill them. I can vary where they go, depending on my needs for the project.
You can put them all in a row close down and stack them and put them away if the project is big and you go onto the next one.
N-JOY!!