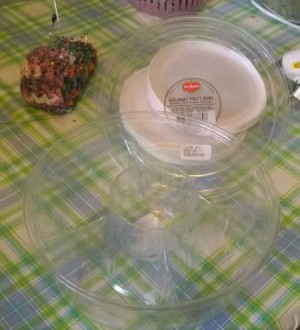 When I was done with this fruit basket container, I knew I had to re-use it. We can't recycle plastics right now in our county, so it would end up in the landfill. I hate that. So, I cleaned and dried it, and filled it with craft supplies.
You could do the same with napkins and condiments at a picnic, "not too heavy" cleaning supplies or pet/kid treats for the car, notepads and pens for your craft room or office, or for a medicine kit or makeup.
Anything that will fit would work. These are sort of sturdy, but if you load it like I did you will have to pick it up with both hands if you want it to last.
N-JOY!