I am trying to find ideas on how to store my acrylic paints. I know they make a metal spinner rack, but I didn't want to spend a lot of money and also wanted something more compact. I would greatly appreciate any helpful input on this situation. Thanks much!

Gail from Montgomery, PA

Answers:
Storing Acrylic Paints
Gail, I keep mine in large metal coffee cans. It holds quite a few. J. B. (10/30/2008)

By Joyce
Storing Acrylic Paints
I have a large tackle box that has tip-out trays. I store the paints in the bottom and the brushes and etc in the trays. This way I have everything in one place and it has a handle for carrying, it has really been a big help through the years of using. (10/30/2008)
By Patsy
Storing Acrylic Paints
I store mine in a plastic shoebox type container I got at the Dollar Store. It has a lid and I tape it on one side with duct tape as a hinge. I put my paints in upside down so I can see the colors I want. (10/31/2008)

By Debby
Storing Acrylic Paints
I use an old tupperware container that is good, but does not look good for food, anymore. I store them upside down so I can see what color. It also makes them last longer to store upside down and if the paint is low, it is already at the top. This is a large container and holds many. (10/31/2008)

By Toebeanie
Storing Acrylic Paints
Hi! I reuse those wooden crates that clementines come in. They hold quite a few and I just dab abit of paint on top of the cap so I can see the color. It's a great idea to store them upside down as I've read from other members. I'll have to remember that myself. (11/01/2008)
Storing Acrylic Paints
All the suggestions are great. You can also get little tackle boxes made of plastic at the dollar tree, as well as ziplock and generic containers that are clear.

If you like having things up off the floor or desk you might want to purchase a shoe bag from the dollar tree. I am sending a shot that shows you how many other craft items you can keep in them.

If you get these, you can find them that have a hanger on them. If not, you can attach a hanger to most of them and keep them in the closet.

Good luck! (11/01/2008)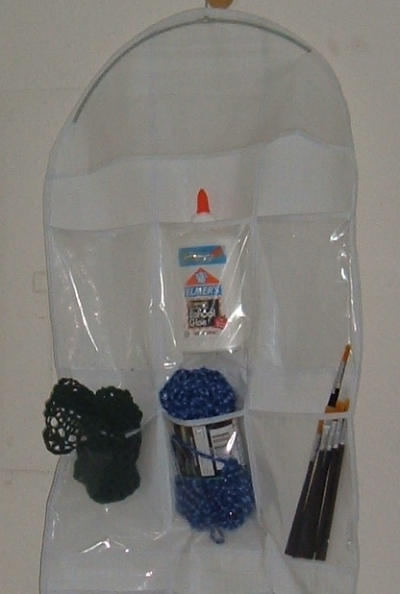 Storing Acrylic Paints
Hi Gail, I have been doing folk art for quite some time now and its nice to have your paints close by. I started out with an empty pizza pop box, then asked for a craft box for Christmas one year. My kids found one in zellers for $14 it has a tray that sits in the top of the box and holds @least 90 small paints, upright, in the tray.
Underneath in the large part I keep all my craft books, etc. It's hot purple. The tray is pink and it has two handles for easy carrying. My friend used her Michaels coupon for make your own sale, (40% off one reg priced item) and bought that metal spinner for $19.00 Good luck and happy painting, (11/02/2008)
Storing Acrylic Paints
I bought plastic lazy suzan treys at the dollar store and have arranged mine on there. Just a touch and it spins to where you need the paints! I have the names of the paint on the top of all my lids and arranged by colors. (11/05/2008)

By Barb Hopkins
Storing Acrylic Paints
I use "Scribbles" and "Polymark" acrylic fabric paints in the 1oz. containers. Take the boxes that your Dove or Caress bar soap come in and cut them in half crosswise. Fit a whole bunch of the half boxes in a shoebox.

Put 2 Scribbles in each one upside down. This keeps the paint from drying out and keeps the rest of them from falling all over when you take out just one.

Use a felt tip pen to mark the color number on the bottom of each container. If you write out the name and number of each color on a sheet of lined paper and dab a line of that color next to it you have a catalog of your available paints.

Make a tray from the top of another shoebox (or some cardboard) that fits inside your box and you can store extra paint doodads in the box on top of the upside down bottles.

I use the boxes that my running shoes come in because I can unfold them and refold inside out for a plain box with lid attached that I can label with a felt tip pen. (11/07/2008)

By Gorius
Storing Acrylic Paints
I have tried almost all of the above suggestions, but honestly the coupon from Michaels and the metal spinner is the easiest and best solution for my needs. Everything is in one place and it takes up less room that storage boxes. (01/10/2009)

By Diane
Storing Acrylic Paints
I have pegboard on the wall in my craft room and I hang baskets on it to keep my paints, mini lights, ribbon etc in them. You can buy the baskets at the dollar store. (01/22/2009)

By Cheryl