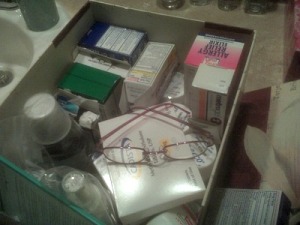 I have been staying with my mom following surgery which impacted her eyesight. I noticed she was emptying her medications from the container onto a napkin prior to taking them. Most pills are white, most napkins are white. I searched local thrift shops and found a 3 x 5 inch black tray, similar to those used in restaurants for leaving the check.
It worked so well I had to search for a second tray to use in the kitchen for her PM pills. I then added a third pill container for her water pill so she would not have to search through the AM pills to find that single pill. Thanks thrifty, a total expense of $1.10 with tax.
By Stef from New London, CT
Read More

Comments
How can I organize my pill bottles? I have around 20 pill bottles all thrown into a drawer and it's not working for me. I take I'd say about 15 different pills a day, but I keep them in a weekly organizer.
The problem comes when it's time to organize my meds for the week! It takes forever because 10 of the bottles are prescription so they all look the same! Help.
By Jennie from Tempe, AZ
Answers
September 10, 2010
0

found this helpful
Get a spice rack, even one of the wooden ones that spin, simply put your pills in them, perhaps alphabetically, or simply line them up alphabetically if you choose to do so, in your medicine cabinet! Voila! If you take them in your kitchen, a spice rack would be best.
September 13, 2010
1

found this helpful
Maybe use a plastic shoe box to put them in? Use a parker to write the names of the medications on the lids so that you can tell at a glance what the medication is without having to pick each bottle up & look at the label. You could even put a piece of tape on the lid to write the name & dosage on.
September 14, 2010
0

found this helpful
My mother gets her prescriptions at Target, they put rings around the necks in colors that can help organize meds. One color for morning, one for evening and one for other times. They also print the name of the medication on the top of the bottle. It is difficult to organize meds but if you get a medication tray for a month you only need to do it once for the whole month. Good luck.
September 14, 2010
0

found this helpful
I use a marker to write AM, PM or noon on top of the lid. I also find it helpful to have an extra weekly organizer and do it for 2 weeks at a time. I keep the bottles in a cardboard shoe box with an attached lid.
September 14, 2010
0

found this helpful
I also take a lot of meds. I write the name of the med on the bottle tops with a sharpie. I then stand the bottles upright in a basket. The drawer would work as well. I also have taped a med list on the bathroom mirror so everything is organized for AM and PM meds. I have 2 colors of weekly organizers, but you can also write yours with paint or nail polish on the organizers. Another thought might be to have the pharmacist give you your pills divided in 2 bottles for AM and PM, and keep AM meds and PM meds in separate baskets.
September 14, 2010
0

found this helpful
Why not get a bunch of different colored markers and color-code the bottles? When you refill the Rx, immediately mark it with the color you had previously been using. A simple color band through the label should do the trick.
September 14, 2010
0

found this helpful
I use weekly organizers for my medications, but put a different medication in each weekly organizer section using the following method. Use different color permanent markers and put a mark or colored shape on the top of the pill bottles, and then put the same mark or colored shape on each of the individual weekly organizer sections. It makes filling the weekly organizer easier, and helps reduce mistakes while refilling it. If you take multiple meds am and pm, and have a big enough weekly organizer, you can put different colored marks on each day in order to fill with daily meds.
September 25, 2010
1

found this helpful
Good Cheers, Fellow Pill-taker,
I take a great number of RX's, mysef,some daily, as prescribed, others, as needed. I also have the vitamins and minerals that I'm supposed to take daily. I have devised a two part system to enable me to organize my daily and monthly supply. When the medications come in, I write the name of the RX and the month and year in thin Sharpie pen on top for easy reading. I place two Rubbermaid "lazy susans" or turn tables on the counter, on which I put each bottle, alphabetically, facing outward.
I use organizers from the craft or notions departments, or sporting goods, automotive or hardware stores. They often have 17-18 large compartments, perfect for a full month or more of RX's. You can also handle your vitamins and minerals the same way, using the same pill box or another one if you choose. (Do not use an "adjustable" divider organizer as I did once. Even if one divider slips upward, your medications slide underneath and get mixed together). I also buy sheets of labels from the office supply store or school supply department. I used to cut strip of paper and used tape to attach labels, but that was too time consuming and my fingers ached from all that cutting.
You can either alphabetize the pills into the compartments or place them according to the times you take them. Then write all the information for your RX two times on one label, if you are using the 3X1 inch size. Write the name of the medication, milligrams, and dosage, along with AM, PM, Mid-day or Night, once each on half the label. So, in effect you have two labels now to put in two places, matching labels for inside the lid area that corresponds with the Pill Box compartment, and then the matching half for inside the edge of the corresponding opening. I have done this for twenty years. Once you go through this system, it's easy to pack for traveling, changing from kitchen to bathroom, etc. If you wish I would be glad to set up the system for you.
I love how easy and fun this is.
November 15, 2010
0

found this helpful
I take several a day and I love ALL these ideas, especially the spice rack idea! I use little baskets and keep them in their bottles and put them on the top shelf in the bathroom for night meds. Meds that throughout the day are in the cabinet in the kitchen on inside of the door, same idea. Get a little basket just wide enough for pill bottles to be lined up, side by side, one row only on the door. So all I have to do is open the door and they are right there. Wish all the best to you!
July 31, 2017
0

found this helpful
I write the name of the medicine in large letters with a black magic marker on the front of the bottle. It helps with poor eyesight at my age!
Answer

this Question